I am not a luxury lover. I have never had a manicure or a pedicure. I can count on one hand the number of massages I have had in my life and have multiple fingers left over. I do not do spas or wine or, well, fancy. So, I was surprised when I received a birthday card from my best friend with a gift certificate for a chocolate tasting for two at Aunt Kate's Chocolates.
Now, I do love chocolate. A lot. But a chocolate tasting? What did that even mean? Would Kate just open the shop and allow me to taste whatever I wanted? I could get onboard with that. Whatever it was, I decided I was more than willing to try.
I invited my husband, Tony, who was incredulous at first. He is a manly man – a firefighter, hunter and backwoods hiker, so anything with "tasting" in the name is not love at first sight for him. But he too loves chocolate, as all wise people do. So, he agreed to come along.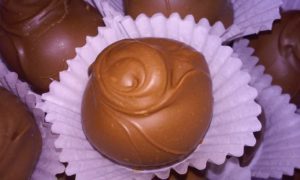 Aunt Kate's Chocolates was easy to find, right on the main drag in Tenino. Owner Kate Donoghue was like chocolate and sunshine embodied as she opened the door and welcomed us inside. Her shop smelled of sweet cream and sugar and evoked memories of my candy-making, cake-baking grandmother's kitchen.
Kate led us into the tea shop area where a quaint table awaited next to a wall lined with jars of exotic loose teas. The smells were invigorating and the atmosphere inviting. The setup was reminiscent of an old English tea party, and I felt a little like Alice sitting down for a much more civilized tea in Wonderland.
The chocolate tasting was all about savoring and being present in the moment. First Kate filled our delicate, pink, white and gold teacups with a steamy, aromatically indulgent chai tea. This was not any old chai, either. This was her own blend – a creamy East Indian chocolate chai. As a deeply passionate lover of chai, I have opinions on the matter. Kate's was as creamy and flavorful as it could be. I drank mine and, later, polished off Tony's as well.
The table was set with delicate Milano cookies to accompany the tea, along with graham crackers, pretzels, marshmallows and Kate's own chocolate-covered potato chips. I loved the blend of rich milk chocolate, salt and starch in the chips. Kate said that one of her very first customers requested that she make this interesting treat and it has been a part of her repertoire ever since.
Next Kate brought out a serving tray lined with special chocolates and truffles of assorted shapes and composition. Together we moved through the flavors, sampling each and discussing its various properties and effects. How strange and delightful it was to slow down and revel fully in the moment, absorbing each sensation and flavor. As a mother of three young children, my chocolate is usually consumed hurriedly while hiding in the closet. It is more a matter of survival than luxury. This, however, was pure indulgence. And I loved it.
There was a tart and delicious cranberry cluster and a tangy chocolate covered apricot. Then, a milk chocolate truffle made from a soft milk chocolate ganache. This was followed by a caramel medallion – sumptuous caramel surrounded by rich dark chocolate ganache sprinkled with pink Himalayan sea salt. When tasting the black pepper truffle, we learned that some flavors serve to alter, enhance or subdue others. In this case, black pepper softened the flavor of the chocolate. The chocolate-dipped orange jellies brought me back to my childhood and Christmas morning. In between samplings, we sipped bottled water to cleanse our palates.
The Scatter Creek wine truffle was heavenly, a dark chocolate ganache made with a bold red wine from Scatter Creek Winery across the street. Kate likes to source her ingredients as locally as possible, except for the chocolate, of course. As great as the Pacific Northwest is, cocoa beans just do not thrive here.
Kate explained that later in the year, she will source single-origin chocolate. This nondairy chocolate is sourced from one plantation, rather than many, like most companies use. Single-origin chocolate is different every year because the crop and the weather vary from year to year. Kate is aiming to have single-source chocolates in time for the holidays. "They really are different," she said.
Afterward, Kate complemented our sampling by bringing out a large plate of grapes, bananas, apple slices, strawberries and orange segments surrounding a warm tub of molten chocolate. I had never actually had fondue in a formal setting before, and the thought made me smile, thinking of the old '70s food fad. I soon realized, however, that this trend has not gone out of style, and for good reason. It was delicious.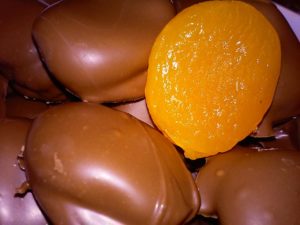 Fondue is not always a part of the chocolate tasting. Similarly, the chocolates themselves are often exchanged for various other flavors. Kate likes to switch things up to keep it interesting.
As we dipped and swirled our fruit in the warm chocolate, Tony and I discussed life and politics. It felt heady and divine.
When we finally had our fill (and come dangerously close to bursting), Kate sent us on our way with a smile and a bag of chocolate treats, including a big hunk of her homemade fudge. She reminded us to stop back in for future chocolate fixes and to grab an ice cream cone. It was a delightful experience. Turns out I may be a luxury lover after all, at least where my stomach is concerned.