My three-year-old daughter and I love taking in the sunshine of summer and savoring bites of the fresh produce available to us. Eating seasonal berries is our absolute favorite pastime. Half of the fun of eating these juicy treats is picking them fresh from the vine. With so many options for U-Pick berries in Thurston County, these summer delicacies are nearby and ready for the picking.

If you are looking to stain your fingers blue, then take a bite out of Carr's Organic Blueberry Farm. Tucked away on Gull Harbor Road near Boston Harbor, this family-owned farm specializes in fresh, hand-picked blueberries. The opening of the season is in July and runs through August. This farm charges by the pound so bring a bucket and fill it to the brim!
Teddie's Berries represents the south end of the county with blueberries as far as the eye can see. Their proximity to Mima Mounds makes this an interesting landscape to explore while filling your buckets with juicy blueberries. The U-pick opens in July with picking hours beginning at 8:00 a.m. daily.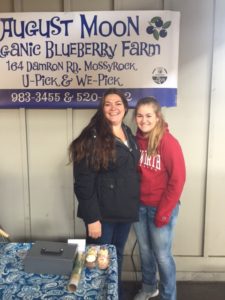 Mossyrock's August Moon Blueberry Farm has become a staple for many Thurston County residents. The blueberries grown here are mid-season berries and are only available for about three weeks. Bring a freezer bag to pick here as these juicy morsels are great frozen! August Moon's U-Pick opens in July and is open to early birds at 6:00 a.m. each day.
Behind Priest Point Park, neighboring Friendly Grove Blueberry Farm is serving up fresh berries with a smile. These U-Pick organic blueberries run $2.50 per pound. The farm grows an old variety of blueberries and steers clear of pesticides on their berry bushes. The grove opens to the public in July and is open Tuesday – Sunday beginning at 10:00 a.m.
Black River Blues Blueberry Farm is located on the bend of the Black River in Rochester. Their blueberry bushes are loaded with sweet treats. This 80-year-old farm grows multiple varieties of blueberries that vary in flavor. They even produce their own blueberry honey. Residents can pick buckets of berries beginning at 10:00 a.m. daily.
Near the northern edge of Thurston County, Pigman's Produce boasts six acres of pickable goodness. This certified organic farm, owned by Jan and Dean Pigman, has been operating in the Nisqually Valley producing veggies and berries for residents for over 20 years. Their commitment to quality, locally-grown food is visible on their lush farmland. While many of their delights can be located at the Olympia Farmers Market, the real adventure is exploring the farm. The U-Pick berry season begins in June and runs through pumpkin season in November.
Now, this would not be a U-Pick story without mentioning Spooner Berry Farms. Their farm stands are located throughout western Washington, and Thurston County is lucky enough to have a U-Pick right here in our backyard. Residents from far and wide come to their Yelm Highway location to pick their own fresh strawberries right off the vine. Business has been thriving since 1982 for local owners Tim and Sue Spooner. Berries are available throughout the summer, beginning with strawberries and ending with blueberries.
Grab a basket, gather the family and head out to one of the many U-Pick options in Thurston County to enjoy the taste of summer through local berries.
Thrifty Thurston highlights inexpensive family fun in Thurston County. The weekly series focuses on family-friendly activities throughout our community. If you have a suggestion for a post, send us a note at submit@thurstontalk.com. For more events and to learn what's happening in Olympia, Lacey, Tumwater and the surrounding area, visit our complete event calendar.