For young women across the state and nation, this summer will offer much more than sunny days and time away from busy school schedules. That's because the Girl Scouts of Western Washington are hitting the outdoors, once again, as they kick off a fun-filled season of camping and comradery.
At camp, girls of all ages will find themselves part of a community that celebrates, accepts and inspires individuality. Campers are encouraged and supported to make their own choices and try things they never imagined or thought they could do.
Every girl, whether a Girl Scout or not, is welcome at camp. You may even find that once you are there it is hard to stay away. Such is the case for Camp Director Jessica "Toto" Carter and Unit Leader Hannah "Finch" Herzog from Girl Scout Camp St. Albans, located in Allyn, WA. Toto and Finch are their camp names and a huge part of the Girl Scout camp culture.
Jessica and Hannah remember fondly their beginnings with the Girl Scouts.
"I was a Daisy Girl Scout and my mom was the troop leader," shared Hannah. She had been a Girl Scout before me. At 18, I decided that I wanted to be a part of this organization again through my old summer camp. I stay with it to this day because I believe in the message the Girl Scouts is spreading to girls all over and because I have met some of my best friends at camp the last few years."
"I was a Girl Scout when I was younger and then I worked at a summer camp in Arizona when I was an adult.  Camp is where I belong," Jessica proudly admits. "I stay in Girl Scouts because it is the one place that I can be exactly who I am all the time."
The Girl Scouts are founded on the values and beliefs that there is power in community and common goals. That we can all be a force of good in this world and that when our minds are set to something, we CAN accomplish it.
"The Girls Scouts asks that its members work to make the world a better place; whether that is cleaning up our Earth, showing kindness and respect to others, or by being the strongest and most courageous person you can be," explained Hannah.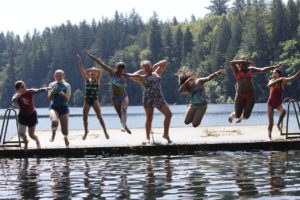 St. Albans, like many other Girl Scout Camps, offers several units each week for girls to choose from.  In addition, each week is themed to create a more magical atmosphere.  Units focus on a specific skills and activities.
"Our girls can sign up for units focused on archery, horses, nature, art, night activities, or a general camp experience. Our camp experiences are girl led; meaning they decide what they want to do, and we (as counselors) make it happen," said Hannah.
"Summer camps offer adventure, belonging, FUN, new challenges, independence, new songs, a positive atmosphere, fresh air, a break from electronics, time for play, new friends, existing friends and amazing food," says  Jessica, though she admits these are only the start of the list.
"Camps are also great for building girls' independence and sense of self," added Hannah.
No age is immune to the magic infused experiences of a summer with the Girl Scouts.
Hannah still remembers the summer a cold was making its way between the staff, and many counselors were losing their voices.
"I was starting to feel hoarse, and I asked my campers what would l I do if I lost my voice?  All the campers quickly responded, 'We will sing for you!' The kindness and support I had gotten from these Girl Scouts all week was amazing, and the love they had for each other and for us (their counselors) was inspirational."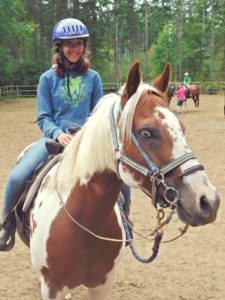 Jessica recalls the evening a young camper took her by surprise. "We were standing in a circle, reflecting on our day and one girl said, 'I didn't think I would have fun today, but it turns out I had one of the best days ever today!' Just knowing that we can make a difference and an impact that big in a few hours is a memory I will keep with me forever."
"As a kid," said Hannah, "the Girl Scouts taught me how to work with others, how to be confident, how to manage money and basic business skills. As an adult, the Girls Scouts have taught me how to speak up for myself, how to communicate with all sorts of people, how to have fun while being professional and they have taught me how to be true to who I am and express myself."
"Having your child attend summer camp provides so much value to their life," concluded Jessica. "It is a lifelong memory they will never forget. No matter what camp they go to, give them that opportunity to make those memories and discover new things about themselves and the world around them."
Take the advice of Camp Director Toto and Unit Leader Finch: disconnect and re-engage this summer with friends, nature, new skills and fun at a Girls Scout camp near you. Find information and sign up today at the Girl Scouts of Western Washington Camp Website.
Sponsored