The last note from the ukulele still hung in the air as West Side Uku-Hooligans singer, Shawn Newman, jumped up from his chair, threw open his arms and proudly proclaimed, "Great God almighty, we managed to get through that one!"

His signature finale to each song conveys the attitude that the Hooligans want to have fun while they are entertaining.
The three-member group includes Shawn and Greg and Susie Knight, all of Olympia. All three play ukuleles; Shawn does the singing.
They perform for free. "We don't want money," Susie said in an interview. "What? Wait. I'm a lawyer; you don't say that," Shawn responded in mock outrage. "Besides," he adds, "nobody would pay us."
The group started performing in about 2010. Susie had purchased a ukulele (the Hawaiian pronunciation is oo-ku-lay-lee) from the famous Kamaka Ukulele factory in Hawaii in 2006. She and Greg, who was raised in Hawaii, met Shawn at a ukulele class at South Puget Sound Community College. Shawn first saw the instrument in use at a Bible study class in Hawaii.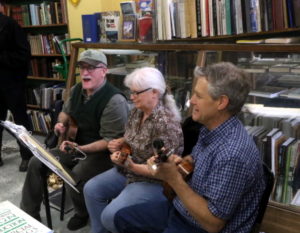 The SPSCC class ended when space was no longer available, so the group started meeting at Shawn's home in West Olympia. That led to formation of the trio, which attracts people Shawn laughingly calls "groupies" who come, grab a noise-making instrument like a tambourine and join them.
The name of the group comes from the instrument which came to Hawaii in the 1800s from Portugal and is a four-stringed descendant of an instrument called a –machete, and hooligans, a name that appears to date back to the late 1800s and an Irish ruffian named Patrick Hooligan. The name is also a nod to the Irish heritage shared by Shawn and Susie, who claim dual Irish and American citizenship.
While they have great fun, they also evoke the power of music and memory.
They have sung at anniversaries, a funeral, a fundraiser for the Little Red Schoolhouse, Orca Books during Art Walks and the Dragon Boat Festival, among other events.
Their main gig is 90-minute performance every other Sunday at the Hampton Alzheimer Special Care Center in Tumwater.
It is obvious that many of the 20 plus people who come to hear them connect in some way with what Abraham Lincoln once called "the mystic chords of memory."
"We're not the best, but we like to bring joy and happiness to people," Susie said.
Shawn describes their repertoire as "eclectic," including Hawaiian- and Irish-themed songs. Compiled in two very loose binders, their songs range from Elvis ("It's Now Or Never"), to the religious ("I Saw The Light"), to the silly ("Aba Dabba Honeymoon") and, perhaps most movingly, to songs that connect the residents to the past.
On a recent Sunday, the song that seemed to resonate the most was "You Are My Sunshine." The room hummed with remembered joy as many residents quietly sang along.
"My grandmother sang that to my mom," says Lynn Welton, who comes to be with her mother and attends most of the concerts. "That one harkens back to their long-time memories."
She says of the concerts, "It's one of the best things out there." So much does she appreciate the group that she gave them a framed sheet music cover of three songs from the 1920s, including, "Yes Sir, That's My Baby," another song in their repertoire.
"It's the one thing that makes my mom perk up a bit," Lynn says. "I love that they come and that they do it so consistently."
Throughout the room, residents tap their fingers on the table, tap their feet or clap quietly along. One staff member plays the tambourine. Another resident whistles in harmony to the songs.
"It really gets to you – gets to your heart," Susie says. "I really get attached to some of these people."
Greg adds, "Sometimes it just feels so good. We get as much out of it as the audience does."
They also love the interaction with the residents. Some make specific requests, such as playing an Elvis song. Others provide feedback.
One review in particular drew laughter from the trio, who jokingly suggested it might be just the slogan to put on a business card. Says Susie, "I had one woman come up to me and say, 'I've got to say, you're not half bad.'"
For three non-professionals who just enjoy the music and the joy and the memories it brings, such an endorsement is, well, not half bad.
For information on the group email the group at info@uku-hooligans.com or call 360-866-8076.
Thurston County is home to a sizeable number of ukulele enthusiasts. Ruby Re-Usable manages the e-mail lists for two groups totaling about 150 people – one group focused on American culture, the other more based in Hawaiian culture.
You can connect with Ukolympians on Facebook or follow Olympia Aloha Ukulele Pu'ukani on Facebook too.