Even in our digital, electronic age, the theater is alive and well. It's estimated that in the Spring of 2016 alone, more than 47 million Americans attended live theater events.
Our region bustles with performances at the Washington Center for the Performing Arts, Olympia Family Theater, and Harlequin Productions amongst others. But we also produce outstanding acting talent, especially amongst our local high school programs.
Tumwater High School's theater program recently had three students—a sophomore, junior and senior—win honors at the state finals and qualify for national competition opportunities this summer. They are fundraising actively in hopes of making the trip a reality, completeting their journey of hard-work and dedication at The International Thespian Festival taking place in Lincoln, Nebraska this summer on June 19-24.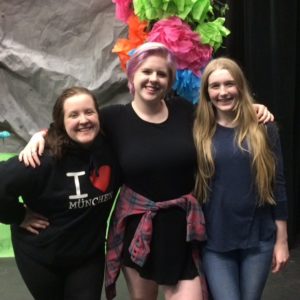 Students Reese, Molly, and Emily are hosting a Tumwater High School Cabaret on May 18 and May 19 at 7:00 p.m. and carwash on May 20 at the Lincoln Creek Ace Hardware from 9:00 a.m. until 5:00 p.m. Both events are by donation, used to defray travel costs for the three actors which are significant. The girls are responsible for airfare, lodging, meals and workshop fees for the festival.  While entry into traditional sport and club state and national competitions is often subsidized, this endeavor falls squarely on the shoulders of these three girls and their families.
At the Festival, the girls will have the opportunity to engage in more than 200 workshops including stage fighting, costuming, and more. Students from across the country can enjoy "a one-of-a-kind, weeklong immersion experience in singing, dancing, acting, designing, directing, creating, writing, and memory-making."
In addition to the immersive workshops and collaboration, the attendees will have the opportunity to audition for college admission and scholarships. The week is presented by theatre professionals, giving participants insight into the world of professional acting. The week culminates in a showcase performance where a few a select few are chosen from their auditions to stage a show for the group.
Reese – THS Sophomore
Reese, a sophomore, has qualified for the festival twice. "I have been so naturally drawn to performing since I was very little," she explains. "As soon as I could walk, talk and create, I began putting on self-written plays for my family and begged to audition for every local show that I was old enough to participate in. My life is theatre—practically all my friends are involved with theatre, the songs I listen to are from musicals and I find the most joy in all things drama related. I'm absolutely thrilled to be partaking in the International Thespian Festival this summer because I know it'll be a once-in-a-lifetime experience that I'll grow and learn so much from."
Emily – THS Junior
Junior Emily says she grew up in a drama family. "My mom was in plays in high school and my oldest sister started acting in plays when she was about eight. I learned to love theatre from them and I never stopped," she shares.
"Qualifying for this competition took a lot of hard work and dedication – I would practice my song in my car, in my room, in front of my friends and really anywhere I could. My favorite thing about being on stage is getting to play different roles. I like going from a video game obsessed kid one weekend to a suspect in a murder case the next. It's also a great feeling when you memorize all of your lines and you work so hard on little pieces that you get to see come together as a whole. Working with some of your best friends is also a great feeling."
Molly – THS Senior
For senior Molly she feels acting is her home. "I really hope to one day perform on a huge stage, doing the thing I love ­– that's what I want to do. Musical theatre is what I want to pursue in my life and I am so excited to see how my life pans out. If making it to the big stage doesn't happen, or when I retire, I am going to start teaching drama and inspiring young high schoolers to pursue the same thing I want."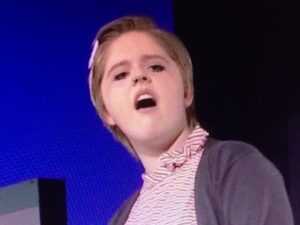 She continues, "This is the way I want to end my senior year, with this trip to nationals. I wouldn't ask for anything different. I am so excited to spend that week with two of my closest friends. My senior year has been absolutely amazing, and I am saddened to see it come to a close. But I know that my friends will go far in life, and I am so excited to see them grow."
Reese's mom Sarah is also thrilled with their success. "I am extremely proud of these girls for their hard work and dedication to their craft. Reese, Molly, and Emily are all gifted thespians and so passionate about performing. The creative process seems to be joyfully addictive. I would say that this is all true for the three girls."
The urge to create is inherent in some and should be fostered. As actress Monica Raymund acknowledges, "The love, support, and respect the members of the theater community have for one another is unparalleled. Say what you want about us wacky drama-types, but one thing that makes our business special is our loyalty, our fierce commitment to one another, and our mutual respect."
This caring is embodied in the dedication and hard work of Reese, Emily, Molly and their families. Can't attend either fundraiser? The girls have set up a GoFundMe page where contributions are collected for the trip.
Show you support our region's finest arts and artists. Who knows? You may see them on stages nationwide in the years to come.