Sarah Poppe is a firm believer in finding your feet wherever they might fall. Her husband is in the Army, which means frequent moves for their family, including the most recent move, three years ago to Olympia. Since then she has done amazing work in both the professional world and as an ambassador for a national non-profit organization. I met with Sarah to learn more about her and the charity she champions.

Sarah is originally from Kansas City, MO. She graduated from the University of Kansas with a Bachelor of Science in Nursing. She went on to receive her Master Degree in Nursing from the University of Cincinnati. Sarah is a board-certified Adult Nurse Practitioner. She currently works at Gastroenterology Associates in Olympia.
Sarah is also the South Sound ambassador for a non-profit organization called Ainsley's Angels, raising funds to purchase specially designed racing chairs for the inclusion of anyone with a disability that may prevent them from running a race on their own. It was at a 24-hour Relay for Life event in Virginia Beach where Sarah met Ainsley, the inspiration for the organization.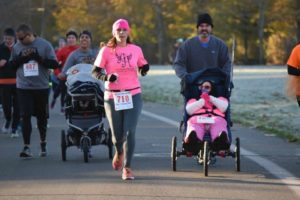 Ainsley Rossiter, born in 2003, was diagnosed with a rare terminal illness just before her fourth birthday. Infantile Neuroaxonal Dystrophy (INAD) slowly causes complete paralysis. At the age of five, she ran her first race. With a smile on her face that read pure joy, Ainsley and her family started running together as therapy for their devastating circumstance. The organization was started shortly after. Ainsley participated in 100 races before she passed away last year.
When she met Ainsley, Sarah was participating in the Relay for Life event in honor of her mother-in-law Donna, who had been diagnosed with cancer. As the hours wore on, each leg of the race became more exhausting and challenging. Just when Sarah was losing steam, she noticed the team running with the rolling chairs, each runner taking turns to push the athlete in the chair. "I realized as tired as I felt, it wasn't really that bad by comparison," she recalled.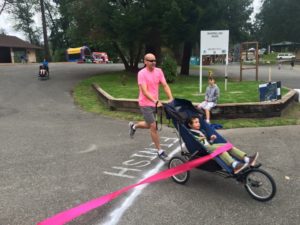 Inspired by these runners, Sarah participated in a race with Ainsley's Angels as an Angel Runner a few weeks later. As she recounted her experience running with her team, my eyes welled with tears. She described the crowds on the sidelines, watching the race and the fact that the cheering would roar as they rolled past. Most importantly, she recalled the joy on the face of the participants as they realized all the commotion was centered around them. Some were able to get out of their chairs and walk across the finish line with the help of their running team. "This gave running a whole new purpose," Sarah said.
Shortly thereafter, Sarah and her family were settling into their new home in Washington. Influenced by her experience with the organization, she decided to become a local ambassador. In this role Sarah participates in all the races, recruits athletes for teams and manages the groups on race day. They participate in over 20 races per year, rain or shine. Her involvement has prompted the addition of new ambassadors in Bremerton and Portland. "We are winning the West as I like to say," she joked.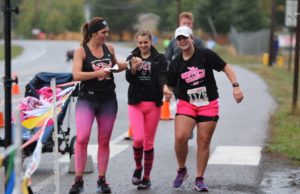 Ainsley's Angels is welcome to all ages and degrees of disability. Angel Athlete-riders pay no cost and are fitted with a racing chair on the day of the race. Each team will consist of one Angel Athlete-rider and two to four Angel Runners. Runners are grouped together by pace. If you are not a runner, there are other opportunities to get involved with this great program. Guardian Angels work behind the scenes to set-up on race day and help everyone stay organized and informed. All donations to Ainsley's Angels go toward new equipment and racing chairs.
The group just completed the second annual Race 4 Inclusion 4 Miler on April 23, 2017. This race encourages participation by those of all abilities and is open to all members of the community. The four-mile race involved a run to Priest Point Park and back. Encouraged by my chat with Sarah, I ran the race with her and the rest of the Angels.
For more information, please see visit Ainsley's Angels online.