Local commercial real estate agent Quint Newell may seem like he's been in the field forever with his easy demeanor and laid back manner, but the truth is, he's one of the newer agents at Greene Realty Group. After moving to the area with his wife and two children 6 years ago, the couple fell in love with Olympia, and decided to settle down for good.
"We were looking for our first home and ended up working with another agent from Greene, Barb Furman. She was terrific and we had a great experience with her. We became friends through the process, got to talking and I told her that I'd always had an interest in real estate," he explains when asked why he decided to make the career change. With a background in media sales and communications, it was an easy fit using a skill set he already had.
Barb arranged a meeting with owner and managing broker, Jim Greene, and the rest is history. "What I thought was just going to be an initial meet and greet, get to know somebody, learn a little bit about the industry, turned into a job offer," Quint remembers. "He really helped me understand what I wanted."
With many years in the real estate world and prestigious titles such as Thurston County's Realtor of the Year, Jim knows the field well. He started his real estate career with another company in town, but decided to open his own office in 2005, specializing in residential properties. When that took off, it was a natural progression to add the commercial side to the business about five years ago. As it continued to grow, Jim was happy to bring someone new onto his team.
"One of the fun things about expanding into the commercial side of the business, it's a different animal and presents new opportunities for Jim as well," shares Quint. "It allows us to serve our clients who may have more investment or business centered needs while continuing to apply the same philosophy and core values of what Greene Realty really is."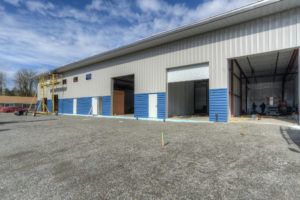 Being a locally owned and operated business, Greene Realty Group enjoys working with other local businesses and entrepreneurs. "We are not a greater NW regional or national entity. We have a local presence. We tend to be more focused on the local market and the needs of businesses looking to move to the area," Quint explains.
And, he shares, the Olympia market is definitely on the upswing right now. With many buildings downtown being developed and new ones being built, business has really picked up the last five years. "It feels like it was primed to happen, and then to see it happening and be a part of it is pretty exciting. For instance, we've seen the rapid addition of market rate apartments going up downtown and if that trend continues and we see young families, young professionals and even retirees moving into these buildings, the next obvious need is going to be services and businesses to meet their needs."
New styles of commercial spaces are coming to the Olympia area as well. Concepts like 222 Market and the former state buildings in Lacey, now housing The Hub and Ricardos Restaurant, are prime examples. "We're seeing a lot of people move from states like California and with them comes a level of sophistication and an eye towards investment," Quint describes. He explains how Olympia has many similar components to much bigger cities like Portland or Seattle, but it's just been slower to grow. "You have the water, the mountains, the gateway to the Olympics. All of these elements that really make this a great place to live, raise a family and have a business. I really see an opportunity here."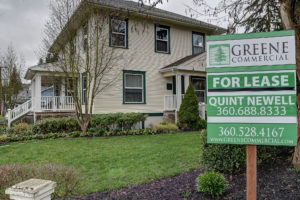 Quint shares how Olympia and Washington in general, are unique in their markets. However, with the legalization of marijuana in our state, a big impact has been felt in commercial real estate. Now, more businesses are vying for retail and commercial industrial space. There are fewer opportunities for some smaller users, particularly spaces under 10,000 square feet, making the market much tighter for small to medium size businesses.
As a result, you are seeing new construction and redevelopment of older buildings, like former State offices. "It's an exciting time. It's been a steep learning curve, but I am really excited to see what the next two to three years brings. I think we're at a tipping point. There is a new project we are currently working on down by Olympia Airport, the Denali Business Park, which is a great example of working with clients to redevelop their property to help meet the needs of the market."
At present, Quint believes people can still expect to get a six or seven percent return on their investments and there are plenty of projects looking for investors. "I think it's still a good time to get into the market. We likely have a few more years of this current run. Nothing lasts forever, but I think that we probably have several more years of this cycle both in commercial and residential real estate. I believe that commercial property is a good way to diversify someone's investment portfolio."
For Quint and the others at Greene Realty Group, it's not just about showing clients great investment opportunities, but watching the community thrive and grow. "I've always thought of commercial real estate as similar to civil engineering. I've admired how they can drive around and say, 'See that bridge, I built that'. For commercial real estate, you really have the same opportunity. Commercial projects change the landscape, change the skyline and that is really awesome to be a part of."
Contact Quint Newell by phone at 360-668-8833 or visit Greene Realty online.
Sponsored