Miguel Pérez-Gibson is truly a renaissance man. Recently retired from his role as legislative director for Governor Jay Inslee, Miguel is about as busy as he has ever been. He is a classically trained guitar player who gets hired for gigs all around town. As a certified mental health counselor, he also sees patients in private practice. In addition, he consults on forestry issues for the Washington Environmental Council. He likes the mix of work he gets to do and it is all the type he really loves.
Miguel got his start in government as a forester for the Department of Natural Resources (DNR), which is the kind of work he did for the bulk of his career. It was a big move for him to go from implementing policy to shaping it. Eventually, he was promoted from the field into the policy division of DNR where they appreciated having someone with hands-on experience.
Miguel continued to be promoted up the ranks until he became deputy supervisor under the Commissioner of Public Lands. He spent twenty-two years at DNR altogether. His last position was a political appointment, so when a new commissioner was elected, Miguel left DNR and joined the House Democratic Caucus as a policy person.
After four years at HDC, Miguel left to become a lobbyist in the legislature. He worked for tribes, environmental and racial equity groups advocating for pieces of legislation that would benefit his clients and opposing bills that would hurt them. After eight years as a lobbyist, Governor Jay Inslee appointed Miguel as legislative director for his office. In that role, Miguel was the head policy person for the governor's office, working hard on pieces of legislation that were important to Washingtonians.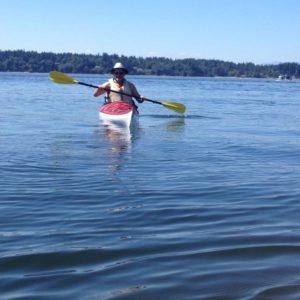 I asked Miguel what he thought people should know about politics and government. "I think people should realize how much influence they have over their government – the idea that your voice doesn't matter just isn't really true," he shared. "The more engaged people are in the process, the more effect they have on outcomes. The easiest thing to do is to make a phone call. It's so important. Everyone should have the White House's phone number in their phone: 212-456-1111."
Miguel would often notice that when there was a particular issue affecting a specific group, targeted advocacy made a real difference. He has worked on countless pieces of legislation and says that the most successful ones are those where people have done the work to build real consensus.
"Nothing that is sustainable gets done without building consensus. It's a slow process where you have to get input from everyone. The truth is, you have to get bi-partisan support to make sure things are going to last. It's not designed to move quickly – that's the democratic process. You must realize that if you get eighty percent of what you want done, that's a huge success," Miguel explained.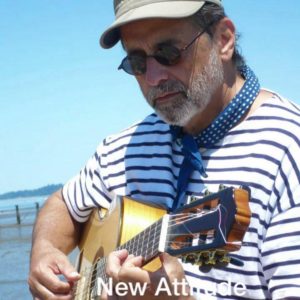 Miguel is very proud of the pieces of legislation he has worked on over the years. He says that getting climate change policy passed while at the governor's office so that Washington State could start monitoring emissions felt like a big accomplishment. Miguel also worked on the Indian Child Welfare Act and the Puget Sound Partnership, both of which were years in the making.
In his retirement, or "refirement" (as in, he is fired up all over again now), Miguel is enjoying being his own boss once again. Soon he will be playing a piece of music called "Lake Isle" by the Norwegian composer Ola Gjeilo with the Yelm High School choir. The piece is inspired by a W. B. Yeats' poem called "The Lake Isle of Innisfree." It is an unusual piece of music, so Miguel contacted the composer to find out more about how to play it.
You can also find him all around town playing gigs at local clubs and restaurants. He often plays flamenco and salsa behind dancers on the weekends at Pizzaria La Gitana, an Italian restaurant in downtown Olympia. His musical tastes are varied. He enjoys classical, salsa, flamenco, Latin, blues and standards by himself or in groups of musicians.
Despite his musical leanings these days, Miguel is still politically minded and says that people should understand that this is a "company town" and politics are an important part of life in Thurston County. Those of us who live here can impact the lives of Washingtonians through involvement in the political process. That is why Miguel will continue to engage in political consulting as long as he feels like he is making a difference.
That's what he calls "refirement."