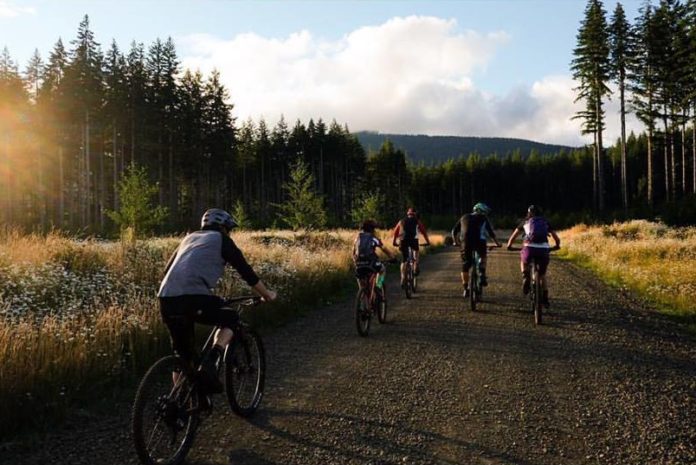 Whether you are a year-long road warrior or a sunshine-and-shorts cyclist, like me, spring is the perfect time to take a closer look at your two-wheeled machine and the mechanics that keep it running safely and efficiently. It is also a perfect opportunity to discover new rides and connect with other cyclists in our community.

This year, I kicked off the first day of spring with a visit to a few of our local bike shops, eager to collect some expert advice from their professional teams. First stop, Old Town Bicycle, to meet with assistant manager, Michael Mataya.
"The team at Old Town Bicycle really has a passion for riding," shared Michael. "We ride to work and ride on our days off. Many of us have degrees and are qualified to work in a variety of other fields, but we chose to be here because we love what we do."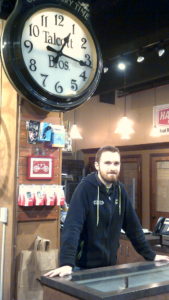 "Thurston County is a great place to ride year-round," Michael reminded me, "and is, in my opinion, sometimes under-rated when compared to other cities like Bend or Bellingham or other bike meccas. When it comes to off-road biking, Capital Forest offers some of the best mountain biking out there. It's steep, technical and rarely crowded."
Michael also emphasized the importance of wearing a helmet every time you hit roads, trails or, yes, even the seemingly harmless bike paths.
"Helmets are a necessity. It doesn't matter the law; put on a helmet before you ride. They have become very affordable and come in lots of styles. For about $40 you can pick up something that looks pretty cool and will keep you safe," Michael added.
He also reminds us to all be defensive riders. While new jerseys and gloves can be fun to buy, lights and reflective gear increase the chance of being seen by drivers and should definitely be a top priority.
Just up the hill on 4th Avenue, owner, Dale Carlson, of Bike Tech was ready for me with some simple, but sometimes forgotten, maintenance reminders:
Check the Tires – "Tires lose pressure over time," reminded Dale. "They need to be topped off frequently.  The recommended tire pressure is written on the side of the tire." Here is an insider tip on tires: fill them up a night or two before you ride if your bike has been sitting for a while. That way a leak will have time to show itself before you hit the road.
Oil and Clean the Chain – "Chains shouldn't be dry. There are specific chain lubes available that help in keeping the chains clean as well as lubricated," explained Dale.
Check for Basic Operation – "Be certain to check the brakes to make sure they are operating properly before you hit the road," Dale offered.  Looking for loose or broken parts does not hurt either.
Worried you might miss something? Bike Tech offers a free safety check to assess your bicycle's condition. Just stop by the shop.
"Bike Tech is dedicated to helping people of all abilities enjoy cycling, from children getting their first bike, adults getting back on a bike for health and recreation, commuters, off-road mountain bikers, performance-oriented road riders, to riders interested in the new electric pedal assist bikes. A bicycle fits in everyone's life differently, and it's very satisfying for us to be able to enhance people's cycling experience," Dale concluded.
Last, but hardly least, I stopped by my neighborhood shop, Joy Ride Bikes, in Lacey. There I met with sales team member and maintenance clinic instructor, Will Trogden.
What does Joy Ride offer Thurston County Riders?  "Personality," joked Will.
It is easy to understand why they were voted "Best of the South Sound" after just one visit, but good fun is not all they have to offer.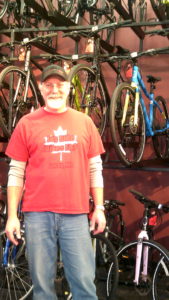 Will's Bike School is now open for the season with classes on flat repair and basic bike maintenance, available now through November. And the cost – free. Joy Ride also offers group rides throughout the year for mountain bikers and road bikers alike. Information on when to ride, where to go and what to bring can be found on their website as well as the class schedule for Will's Bike School.
Where is Will's favorite place to ride?
"I definitely like the bike paths because it's easy to ride together and yak with friends. However, Thurston County Bike Maps is a great resource for any level of rider. The interactive map shows multi-use lanes, shoulders and roads commonly used by cyclists, allowing you to plan the safest and most enjoyable route possible," Will suggested.
Needing a bit of a push to get started this season? Michael offers some food for thought.
"Although biking requires a bit of an investment upfront, it remains, to date, the most efficient mode of transportation we have created, input to output. Biking is also a positive step towards mental and physical health."
Most importantly, it really is just good fun. Stop in soon to see the experts at Joy Ride, Bike Tech and Old Town Bicycle or your favorite neighborhood shop to get geared-up and tuned-up for spring. Also, do not forget to check out Capital Bicycling Club and the Evergreen Mountain Bike Alliance to find out about upcoming rides and events.
See you on the road!