Washington's Secretary of State, Kim Wyman has many duties. The most important of these is overseeing our elections. The Secretary of State is also the keeper of the State Seal of Washington, responsible for its official use.
My first experience with the office of the Secretary of State was in 2007. My son was in the third grade at Boston Harbor Elementary School. As part of a civics lesson, his class proposed that the Pacific Chorus Frog be named as the official state amphibian. The class successfully moved the proposal through a series of hearings and ended up in the Secretary of State's office, where all the official state symbols are housed. At that time, Sam Reed was the Secretary of State and Kim Wyman was serving as County Auditor.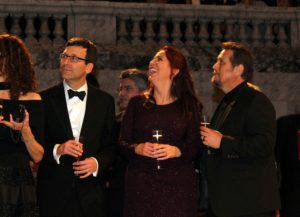 Wyman had returned to Washington State with her husband after living in California. He was stationed at JBLM in the 2nd Ranger Battalion. Their plan was to move back to California when his service was over. Wyman was working in the County Auditor's office in their records division under Reed. When Reed decided to run for Secretary of State, he asked her to take his place as County Auditor. Wyman loved her job and was ready for the challenge, but first had to convince her husband to stay in Washington.
Her rain-averse husband made her a deal. "Buy me the fastest street bike currently on the market and we can stay," offered John Wyman. She promptly bought her husband the bike and took the appointment as County Auditor. Following that appointment, Wyman was elected to the office for four consecutive terms.
When Reed decided to retire as Secretary of State in 2012, he once again thought of Wyman as the most qualified to take his place. She was elected in 2012 and became only the second female to serve as Washington's Secretary of State.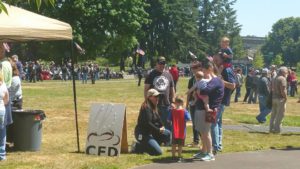 As a follower of elections and politics, I assumed Wyman had been introduced to politics at an early age and was perhaps "politically connected." Nothing could be further from the truth. "I didn't meet an elected official until I was 30 years old," Wyman explains.
One of her favorite parts of the job is meeting with young people still in elementary or high school. "I love going into a classroom and telling the students that I was once in their shoes and had no idea what I wanted to do as a career," shares Wyman. "Especially for young women," she adds, "I love to plant the seed of possibility." Wyman believes students can be whatever they set their minds to if they just follow their passions and apply themselves.
Wyman is passionate about public service. "I am responsible for protecting democracy and take that job very seriously," she explains. In addition to overseeing elections in the state, Wyman testifies on bills affecting the election process. Every day in the office is different. The day I met with her, Wyman was welcoming the Boys & Girls Club Youth of the Year to the Capitol.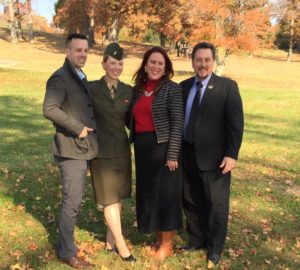 When Wyman is not working in the office and carrying out official state duties, she heads out with her husband on their motorcycles. Now a few years older and slightly less adventurous, they settle for leisurely rural rides on a couple of comfortable touring bikes as opposed to the racing motorcycle she bought for John years ago.
Empty nesters now that their two children are grown, the couple enjoy exploring the beautiful state of Washington together. Son Jordan is pursuing an engineering degree at Saint Martin's University. Daughter Renee followed in her father's footsteps and is embarking on a military career. After completing her undergraduate work at Gonzaga University in Spokane and earning a law degree at Seattle University, she will be a JAG officer in the U.S. Marine Corps.
Wyman keeps a picture of her daughter in a marine training exercise on her desk. "She is muddy, laden with equipment and crawling under a fence," Wyman tells me. "When I am having a difficult day, I can look to the photo, and it reminds me that I can get through anything," she shares.
It is this attitude that will no doubt help her through her current challenge.  Wyman was recently diagnosed with colon cancer and is undergoing treatment. Recently, she wore a bright green pair of her son Jordan's socks and they brought a smile to her face that day.
To support Wyman throughout her six weeks of radiation she has asked that Washintonians wear their own bright and crazy socks, posting a picture of them on social media. Show your support with a photo of your sock clad feet and post with the hashtag #wymanrocksthesocks.
I feel confident that Kim Wyman will be healthy again soon and ready to serve the people of Washington fully in the job she loves as our Secretary of State.