Everyone is talking about tiny houses these days. They are the subject of television shows and magazine articles and frequently appear on display at Home and Garden shows where thousands flock to see the small dwellings. Visitors gush about the compact gourmet kitchens and expansive skylight windows and imagine themselves living in one without a care in the world.

There is a different type of tiny house, however. In January Tenino High School Career and Technical Education (CTE) students took on the task of building an original tiny house from the ground up. They used determination and newly-acquired skills to reach the challenging goal of a March 27 deadline. The students built the whole house—every inch of it.
Students enrolled in shop class built the floor and walls as well as installed the insulation, siding, windows and door. They also painted the siding and trim. Other students at Tenino High School contributed their time and talents, too. An art student painted a mural on the inside, a business class designed and contracted with a company to make t-shirts and the DECA Club managed the $2,500 budget for the project. It was definitely a school-wide effort.
The Tenino educators supervising the students are teacher, Fletcher Mann, and assistant principal/CTE director for the district, Ellen Cavanaugh. During my visit they circled the little house, pointing out places that needed touch-up paint and more insulation.
"Who's working on the bird block?" Mann called out.
"Got it," Nik Stiles replied as he climbed a ladder with a length of steel netting in his hand, used to block birds from entering the tiny house.
"You need help?" asked Chris Solem crouching to daub paint on the edge of the siding.
"Where's the blue tape?" Kaedyn Crist questioned. "Anybody?" Her teacher, Mr. Mann, stepped forward and handed her the tape.
"Kids have an evolution of skills," Cavanaugh commented. "They start small. Make a table. That makes it tangible. They make their own projects. But then," she smiled, "it all comes together and they work as a team. These kids have done a great job building this house."
The tiny house project encouraged students who had never thought about taking a CTE class to consider the opportunity. A school webpage, The Homeless Shelter, allowed students to talk about their experience with CTE classes. One student said, "For some others, though, like me, it's their senior year, and projects like this don't happen every day, nor will I ever get an opportunity like this outside of school, so…this is a first and last chance to do something like this or make as big an impact on someone's life."
The students bustled around me, intent on their work, and I realized something was missing…their phones. None of the students—Kayedyn Crist, Christopher Solem, Nik Styles, Robbie Wall, Roberty Fultz, or Jared Harris—had a phone in his hand. They were all focused on their tasks, and there was not a phone in sight.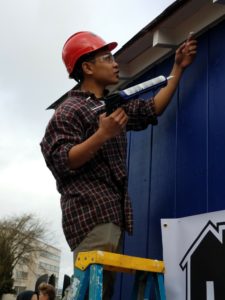 Cavanaugh is the one who secured the Carl Perkins grant from the federal Department of Education to build a structure for a transitional homeless shelter in November. The grant provided $2,500, a blueprint for the 8 X 12 structure and a builder's list of materials. Cavanaugh went directly to Mann soon after receiving the grant.
"Let's build a house," she said.
Educators and students brainstormed ideas for making their tiny house stand out. Someone came up with the idea of making it wheelchair accessible. So, they needed a ramp. Then they realized a drop-down table could be stored away to make more room. In order to add extra amenities to the tiny house, Mann and the students asked stores and building companies for discounts on various construction materials. Every dollar saved meant an upgrade for a resident. In the process they were forced to get creative. The biggest issue was the door. It had to be special ordered and it was expensive…until someone ultimately donated it.
Tenino High School's webpage chronicled the journey of the tiny house. It did not just talk about the walls or floors, though. It outlined the purpose of the project and the need the house would fill. The students discovered through district data that 21 Tenino students were homeless. Their project immediately took on a face, and a voice and a heart. Soon thereafter a student left a message on the webpage: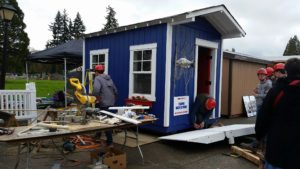 "A shelter could help someone know that it is okay to go through struggles and that you will have someone (the community) and someplace (the shelter) to count on."
On March 27 the 8 X 12 foot cheery, blue house with red flower boxes, graced the lawn of the state capitol at the 2017: CTE Showcase of Skills: Homeless Shelter Project sponsored by the Workforce Training Board. Two dozen other tiny houses built by high schools and technical programs from across the state were on display as well. After the Tenino team put the finishing touches on their project, they knew they would not see it again. All of the tiny houses were to become part of a small village of tiny homes in north Seattle: Licton Springs Homeless Camp. Clearly, someone would have shelter that night and a warm place out of the rain thanks to the resolve and skill of Tenino High School students.