They are the Oscars for food. The national Good Food Awards recognize exceptional producers and farmers for tasty food made with great care along its path to your palate.

Through a process of stringent vetting, Good Food Awards are given in recognition of people who take their craft to new levels. Winners also build community and use environmentally sensitive practices. This year Olympia brought home four awards from three local businesses. Congratulations go to Whitewood Cider Company, Olympia Coffee Roasting Company and Johnson Berry Farm!
In January the winners went to San Francisco for the weekend to receive their awards presented by Alice Waters, renowned chef, author and food activist. Oliver Stormshak, co-owner with Sam Schroeder of Olympia Coffee Roasting Company, was honored for the Ethiopia Konga coffee. Stormshak travels extensively and regularly to Ethiopia, Costa Rica, Kenya and El Salvador to taste the beans as they are harvested. The coffee is both organic and fair trade. Essential relationships with the people in the Yirgacheffe Coffee Farmers Cooperative Union have been tended with time and energy. The traditional heirloom coffee with its native Arabica seeds brings coffee tasting to inspiring heights. Oliver wanted to explain how the unique tastes of tropical flowers, citrus and other floral notes create a sublime coffee drinking experience. Perhaps there are no perfect words, but as I watched him talk about the coffee and call to mind his own experience (bliss-like), I knew I wanted a cup of my own. Anyone can order coffee from Olympia Coffee Roasting Co.'s website, but those of us who live locally can actually go to the store in downtown Olympia, on the westside or near the Capitol.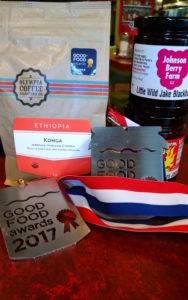 Jim Johnson of Johnson Berry Farm has been selling berries for 42 years. He was not born selling them but almost. When he was an 8-year-old, Johnson picked berries on the family property and took them to the Olympia Farmers Market. By the time Jim got to middle school, the budding entrepreneur was hiring his friends to help pick. He and his wife Lisa currently own five acres on Wiggins Road and lease 30 more. That is a lot of berries! For the past 17 years a portion of the crop has always been made into jam. It is for sale at the Olympia Farmers Market and on their website.
One of Jim and Lisa's two Good Food Awards was for the Raspberry Habanero, a lively spread for crackers and cheese, an intriguing ingredient for sauces or just something to add zip to any dish. Their Little Wild Jake Blackberry Jam was also a winner. You will not find Jake blackberries in the store. The breed was not optimal for large-scale commercial farming, but the Johnsons have cultivated the berries in their own fields. We get to eat the results. You will usually find Jim at the Olympia Farmers Market, happily talking with friends and customers. Remember that their farm stand will open in early June. That's where 50% of their product is sold. Be sure to go early and often. When they sell out for the day – that is it until the next morning.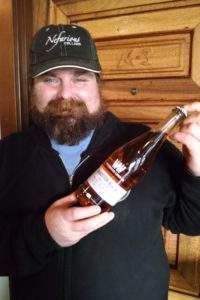 Dave White and Heather Ringwood are the key players in Whitewood Cider Company. It is all about sourcing nearby apples, purchasing and pressing seasonally, and fermenting locally. Whitewood Cider has been producing since 2000. They have also created optimal working relationships with farmers and orchards in the northwest, incorporating heirloom varieties into their blends. Some of their Macintosh apples come from trees that are one hundred years old. "We know where every apple comes from," stated Dave. Their cider is produced in small batches and ends up in kegs or 750 ml bottles. You can enjoy a glass when you visit Vic's Pizzeria Wildwood and West Olympia location, Dillinger's Cocktails & Kitchen, 3 Magnets Brewing Co., the Eastside Club, Rhythm & Rye and the Capitol Theater, to name a few.
White is pleased with his Good Food Award. "I feel good about it," he said with a smile. He noted the depth of dedication of the producers, adding that Whitewood's cider is "the best product we can make with the best raw materials. We take cider making seriously." We have all heard "when life gives you lemons, you make lemonade." Well, when Dave and Heather get Winesaps, Staymans, Jonathans or Northern Spy apples, they make cider.
All three of these local businesses are genuinely proud, yet sincerely modest, when asked about their Good Food Awards. They deserve the recognition for the time they have spent imagining, creating, implementing, working and ultimately breathing life into food that is worth consuming. It is especially exciting that the awards are presented on a national stage. I am proud to be part of their community.
Thank you, Olympia Coffee Roasting Company, Whitewood Cider and Johnson Berry Farm for adding delicious elements to our every day life. Please congratulate them and raise your cup of coffee, glass of cider or bowl of berries. Cheers!