Ace Hardware has built a wonderful reputation based on their outstanding customer service. And this is something Jeremy Scott, general manager of four stores – Lincoln Creek Lumber Ace Hardware in Centralia, Lincoln Creek Lumber Ace Hardware in Tumwater, Market Street Ace Hardware in Chehalis, and Palmer Lumber in Chehalis – strives to uphold with every business decision. This includes the decision to carry much more than just hardware.
"You can go to any hardware store and get the basics," says Jeremy. "People come here because of our outstanding customer service and our unique items. We've introduced some brand new premium brands to our stores that we know customers will love and that they can't get just anywhere."
The newest brands added are Yeti, Oakley, and Big Green Egg. Their Oakley line-up includes a fully stocked glasses display, hats, socks, gloves and backpacks, too. They also have a large assortment of Yeti coolers, including their extremely durable Hopper that is perfect for outdoorsmen.
Big Green Egg is a brand of grills that are porcelain-lined and have quite a cult following. Fans say that once you use one, you will never want to use a regular grill again. Versatile to the max (you can cook a pizza in these!), they also don't lose heat when you open them like a regular grill does so they keep a constant temperature. They come in a range of sizes as well. Big Green Egg is currently only available in the Tumwater store.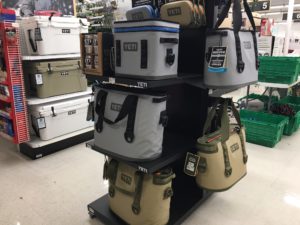 Blending customer service with their desire to be more than just a hardware store, Jeremy makes sure they stock things year-round that big box stores consider seasonal, including the Big Green Egg.
"A lot of box stores are strictly seasonal," he explains. "They are told by corporate when they can order things and when they cannot. We stock a lot of things year round – such as fans and heaters – for our customers' needs. For example someone may want a fan in the winter to circulate hot air coming from a wood stove."
Being privately owned means Jeremy can select items that fit the area and his customers. For example, they carry Seattle Seahawks gifts and western-farm style furniture and décor in Chehalis. You can find anything from a scarf to a decorative fan shaped like a lion. They carry Duke Cannon, a quirky line of gifts for men – including their "Offensively Large Chapstick." For men with more refined tastes, they carry Edwin Jagger, a beautifully packaged line of old-fashioned shaving necessities. Either line is perfect for Father's Day, birthdays, or groomsmen gifts.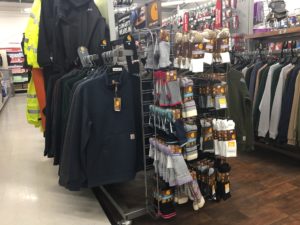 You can even pick out a toy for the kids. They carry durable, old-fashioned wood toys made by Melissa & Doug. Even adults will enjoy browsing the display and reminiscing about playing with similar toys when they were young.
The stores will be adding premium dog food to their inventory in the coming months as well, including Taste of the Wild.
The Tumwater store was recently remodeled and along with the Big Green Egg, they carry Carhartt workwear for professionals and weekend warriors. The Tumwater location includes a large greenhouse and nursery section as well. The Lincoln Creek Lumber and Palmer Lumber locations also have full lumberyards carrying nearly everything for home improvement, including sheetrock. Special orders are available for doors and windows to fit your specifications as well. Because they are all about customer service, they also do "take offs"- you give them your blueprints and they can write up a list of supplies you need to complete your project. All this with competitive prices and delivery to your site.
"We just bought a new truck and we have delivered down even to Oregon," Jeremy says. "We will go anywhere we are needed and we have the ability to do it."
Part of their dedication to customer service is customer education. Employees are ready to teach customers about the newest items, Jeremy says. They also host events throughout the year including a Ladies Night and a Guys Night where people can talk to vendors directly about unique products.
"We wanted to do something that was fun and different, where people could mingle and hang out with friends," Jeremy says. "Where else do you get to actually talk to the vendors about their products and ask your questions? We want our customers to be informed and this was just another way of helping them learn more."
Helping People and the Planet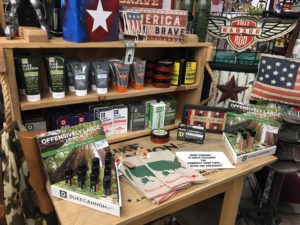 The importance of customer service is reflected in the company's employee handbook. The vision statement, mission statement and core values are all about customers. Second to customers, the company is dedicated to helping the planet. The group values responsible environmental practices exemplified in the Chehalis store's recent swapping of fluorescent lighting for LED. And, since everything comes back to the customer, Ace has a program to assist other businesses to estimate costs on replacing their own fluorescent bulbs. Finance options are available and customers often start seeing reduction in their bills quickly through their new LED lighting.
You can also shop in the comfort of your own home with the newly offered in-store pick up option. Find what you need, order online and pick it up at the store.
For more information visit Lincoln Creek Lumber Ace Hardware (Centralia), Lincoln Creek Lumber Ace Hardware (Tumwater), Market Street Ace Hardware (Chehalis), Palmer Lumber (Chehalis) online and follow them on Facebook. Each store can be reached at: 360-956-9147 (Lincoln Creek Tumwater), 360-736-8261 (Lincoln Creek Centralia), 360-345-1290 (Market Street Chehalis), and 360-748-8848 (Palmer Lumber).
Sponsored