You may have noticed some recent activity along Capital Way and Union Avenue near downtown Olympia. Wagner's European Bakery is expanding, Brown Derby Antiques consolidated into their Tumwater location, and the kid's clothing consignment shop Chifforobe changed names and moved two doors down to the former Brown Derby location.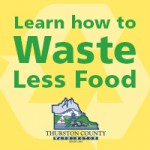 Poppet Kids Resale Boutique announced the name change and opened in its new, smaller location in November. Poppet continues to be a local favorite for high-quality, gently-used clothes, toys, books and gear for kids up to five years old and has been serving Olympia for more than 25 years.
The changes may be recent, but the journey for owner Melissa Greathouse and her mission to be a community resource for all families is a few years in the making. As a former employee of the business, she took the leap to ownership four years ago.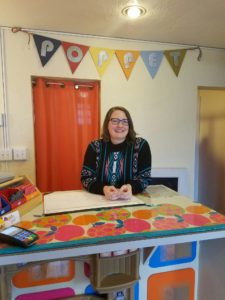 "I look at it now as a paid internship," Melissa says of her time as an employee. "I learned the ropes on the job. I started to understand the industry, the clothes. Around 2013 the former owner had a military obligation, and my husband and I decided the time was right."
Melissa had been a state employee, and she and her husband juggled schedules and commutes to Oregon. But they were steadfast, taking hold of the business and moving forward through the challenges of changing locations and names. The journey has definitely been worth it. Melissa re-opened the shop on Small Business Saturday and has been pleased with her decision ever since.
"It's pretty great being my own boss," she admits. "The difference in the amount of creativity and freedom is night and day. I'm able to design my website, use my photography and really put my multi-media degree from The Evergreen State College to use. I worked for the state for seven years and really loved the people, but working for the government wasn't my passion."
Plus, as an Evergreen alum, Melissa says she has always looked for ways to enhance the community and live a sustainable lifestyle. "Recycling children's fashions and providing a service to Olympia families couldn't be a more fulfilling way to give back to the town I love," she shares.
Melissa's eye for design helped streamline the new space, which is smaller than the original. Now, Poppet's focus is on pre-school age clothing and shoes – newborn to five years old. Maternity items and toys are also available. A focus on quality and demand are especially important to her.
"The footprint is smaller; we have new windows and new exposure as well as better parking and even a public bathroom," she shares, "so we narrowed our scope to pre-school. Less is more. We really want to keep it open and airy, and we brought in wooden toys and those without batteries—things we noticed that were trends, things that Olympia parents really get excited about."
Something else Olympia parents are excited about is Poppet's desire to give back. On the first Friday of each month, foster parents and parents of special needs children are invited to save 30 percent on all purchases.
"We do have a lot of people who need this option; sometimes foster parents only have 24-hour notice to get ready for a child. We'd like to be able to help make that transition easier," says Melissa.
The idea to offer this service for families stemmed from a promotion Melissa ran during Poppet's moving sale when she offered a $5 deal on bags of clothing for foster families and families with special needs children.
Customer Krystal Lucero was at that sale and shares, "I thought it was really wonderful and compassionate. My son has autism, and we got him a bunch of amazing things."
She is now happy to stop in and find deals for her growing son the first Friday of each month.
Another component—and an important one—is that Poppet is also a consignment shop. Customers can arrange an appointment with Melissa to gain store credit, in exchange for gently-used clothes, that fits with the buying schedule and requirements. Seasonal clothing is preferred, and store credit is provided instantly, tax-free, if used the same day. Boutique brands are popular as are gently-loved cloth diapers and maternity wear.
"I have been a patron of Poppet Olympia for years," says one mom, Adriana Hutchings. "I love how the owner and the employees always make me feel so welcome and provide such a personalized shopping experience. They have such quality stuff. It's like shopping in a fancy boutique but is gentle on my pocketbook. "
As things move forward for Poppet, Melissa is excited for the future – her passions and business will blend even more as she prepares for the birth of her first child.
"I'll have an on-site model for all the cute clothes," she laughs. "I'm really excited to share my experience on social media."
Follow the family and business on Poppet's Facebook page and Instagram (@poppet360). Connect in person at 1001 Capitol Way S., or call 360-705-0592.