Every life is different. Some, however, are extraordinary. Ann and Dan Dow of Yelm, for example, decided to eschew a land-lubbing retirement and opt for a sea-faring existence aboard their 52-foot vessel, the Morning Star. This unusual decision has brought the couple many extraordinary experiences.

Ann recalled the night when Dan, who was on watch at the time, called her urgently up to the deck. "I thought something was wrong," Ann said. What she encountered took her breath away. "The wind had died completely, the sea had slowed down, there was no moon and there were no clouds. It was pitch-black except you could see every star in the sky and all of the Milky Way perfectly. The stars were all reflecting in the water. We were literally sailing through an ocean of stars. You could even hear dolphins puffing somewhere off the side of the boat, but it was too dark to see them. We stayed and watched the sun come up. Nobody wanted to leave."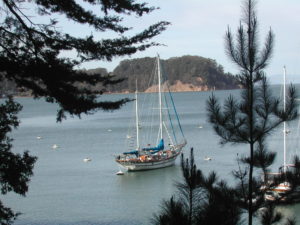 Dan remembered another experience that occurred while the couple was sailing on a friend's boat back from Mexico. "Our friends' son yelled that he'd seen a couple humpback whales lying on the surface. We were trying to stay away from them because you're not supposed to bother marine life, but they drifted toward us. They were lying side by side less than 10 feet away. It felt like we could have reached out and touched the closest one's blow hole. It was so exciting. We watched for about 15 minutes. Finally, our friend leaned over and tapped on the hull of the boat, and one whale rolled up and looked at us with its three-foot-tall eye. Then he nudged the other, which rolled over and looked at us, too. It was so surreal. It was like he said, 'Hey, wake up and look at this.' Then they rolled back over and swam away."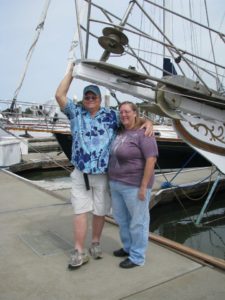 The Dows have had personal encounters with a lot of marine life during their voyages. "The last time we went up the California coast, we saw whales every single day," Dan said. "We observe sea otters and sea turtles, which look like hub caps full of garbage, their shells so covered in barnacles and seaweed." The Dows also recalled sailing through a massive group of jelly fish. "We accidentally sucked some jelly fish up into our cooling system one trip," Dan remembered. "I had to get in there and pick them out by hand, and they were stinging me the whole time."
It hasn't always been smooth sailing for the Dows, however. In 2007 Ann was at the top of their boat's 54-foot mast when her tie-on gave way, and she fell, breaking through her security lines in the process. She hit the boat's rope locker, which Dan had fortunately just covered with a sheet of plywood while he worked on its rock hard lid. Had the hard cover been in place, instead of the flexible plywood, the fall easily could have been fatal. Two other sailors died in that fashion the same year on other boats. As it was, Ann broke both shoulder blades, nine ribs, her back in three places, her hip in three places, punctured her left lung and suffered a traumatic head injury.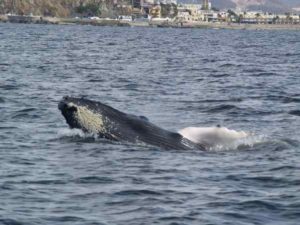 Still, Ann sees the miraculous in a terrible experience. "Ok, so I fell," she said, "but there just happened to be a retired Bodega fire chief on the dock. Normally getting help in a small place like that takes time, but he called directly to the Bodega Fire Department. It also just so happened that the local sheriff's department was doing a test flight that morning, so their helicopter was already fired up. It only took 10 to 15 minutes to get me to the hospital."
"I'm fascinated by the ripple effect," Ann said of the many fortuitous occurrences that followed. After Ann's accident one of the dock workers was motivated to obtain medical training and was subsequently able to save a young girl from choking. As the Dow's son was frantically scrambling to get to the hospital, he was supported by his roommate – who went on to become his wife. The Dow's son-in-law flew back from Iraq to be with the family, placing him out of harm's way when his barracks were bombed. Perhaps most importantly, during Ann's rehabilitation treatment, Dan decided to ask a doctor about a swollen tonsil that had been bothering him. It turned out to be cancerous, poised to turn from stage three into stage four. Early intervention likely saved his life. "We got lucky," Dan said.
Despite overcoming the trauma and paying $75,000 in medical bills and related expenses, the couple has a positive attitude about the experience. "It's just a part of the adventure," Dan said. He also cited his personal motto borrowed from Bob Bitchin, creator of Cruising Outpost magazine, "The difference between an ordeal and an adventure – attitude."
A positive attitude has not only carried the Dows up and down the California coast and into Mexico and Central America, it has also brought them adventures both on and off the water. Dan recalled one instance when he was hired to work as a cook on a boat transport. He had to prepare food for four people, four meals a day for ten days. After setting sail, he discovered that he would have to make all four hundred meals in one small skillet, a one-quart sauce pan and a coffee pot. "I got really good at making rice in the coffee pot," he laughed.
Ann remembered yet another interesting event, the time when the shifting boat caused her bathroom door to wedge shut. "She was stuck in there for over two hours," Dan laughed.
"I made sure that door was never shut again," Ann pronounced.
Another time the Dows were hired to return a boat from Mexico to California and enjoyed the trip of a lifetime just getting there. This included a Mexican bus ride compromised by freezing temperatures, a terrifying 60 mph cruise down the center of the highway and the surprising emergence of a second bus driver, who had been sleeping in the luggage hold.
The Dows were eventually transferred to a "shuttle" that turned out to be a 1974 Ford van. "It was like something out of the movies with luggage and chickens stacked on top," Ann said. After driving into the middle of the desert, the driver charged most of his passengers 110 pesos and the Dows 200. "That's when attitude comes up," Dan said. "I was just glad it was only a little more, not a lot more."
The Dows still look back on the experience fondly. "We learned about Mexican cultural, customs and small village politics," Ann said. "It was fun. But it could have been an ordeal if we had an attitude problem."
Of course there were numerous experiences that were easy for the Dows to enjoy. "We were returning from Mexico when the weather kicked up really big, so we sailed up this little ravine," Dan said. "We got to where the bay was calm, and we dropped anchor. The cliffs were higher so we could hear the wind whistling above. That night I went to pee over the side, and the ocean turned to flames. It was phosphorescence. I filled a bucket full of the water and threw it onto the deck and everything lit up. I called everyone up, and we all started playing in it, taking buckets of water and dumping it all over each other.
"It was like cutting open a glow stick," Ann said. "As long as the water was moving, it was glowing. It was freezing cold, but we didn't care. We were simply four adults playing in this glowing water in the middle of the night. It was amazing." Clearly, this was just one of many memorable experiences from the Dow's extraordinary life.