A bathroom remodel can be as simple as upgrading a few features or as complicated as gutting the whole space and starting from scratch. There are many things to consider when choosing your design. Do you enjoy taking baths or showers? Do you prefer a claw foot tub or a whirlpool bath? Adequate storage is a big consideration when making changes to any room in the house.
The one thing that is not negotiable in any bathroom remodel is the need for a toilet, and everyone can agree that it is essential the toilet be good at its job. Many of today's high-efficiency toilets do their job even better than the old powder blue models, and they save you plenty of water too. High-efficiency toilets save between 11-35 gallons of water per day, depending on the flush volume of the fixture being replaced. But how can you be sure you are picking a good toilet? MaP testing scores are a handy tool that rank the performance and flushing power of toilets. If a toilet has a MaP score of 750 grams or greater, you can bet the toilet is a good bet.
Any remodel can be an expensive proposition but there is some good news.  According to the National Remodelers' Association, a bathroom remodel will recoup over 60% of your investment. If you are thinking of selling your home, an outdated bathroom can be a real turn off to any potential buyers. One way to reduce the expense of a remodel is through rebates.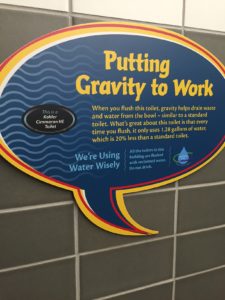 If you are installing a toilet in a property that receives sewer service from one of the cities of Lacey, Olympia or Tumwater, you are likely eligible for a $100 toilet rebate through the LOTT Toilet Rebate Program. This rebate program applies to single family homes, apartment complexes, and even businesses.
To qualify for the program, toilets must use 1.28 gallons of water per flush or less and have a MaP score of 750 grams or greater. For your convenience, LOTT has compiled a list of over two dozen qualifying toilets available for purchase locally. Well-known brands like American Standard and Kohler along with many others can be purchased at local Lowe's or Home Depot stores. Be sure to check the LOTT  website before purchasing a toilet to make sure that it is on the rebate list, or contact them directly to check eligibility of a particular model. The $100 rebate means more money to spend on the fun stuff in a bathroom remodel like mirrors and cabinetry. Besides, replacing an outdated pink toilet with a newer model would brighten up any bathroom space.
One local construction company has many customers who have been able to take advantage of the toilet rebate program. Jennie McDonald of Lifespan Construction says, "Toilets are easy to install.  Home Depot and Lowes usually sell some eligible toilets in a kit so installation is even easier. Kits come with the toilet tank, base, seat, and the wax ring and bolts.  Everything is all packaged in one box so the homeowner doesn't have to run around the big box store looking for all the parts."
McDonald adds, "when you purchase the toilet the rebate forms are usually available in the same aisle, making application for a rebate a cinch."
LOTT and the Cities of Lacey, Olympia and Tumwater have been working together on water conservation since 1996. When you purchase a high-efficiency toilet you are saving water and may even save money on your water bill.  You are also putting less water into the wastewater system, which helps save us all money in the long run by putting less stress on the treatment system that cleans and treats our wastewater before it is released back to the environment. Replacing an older toilet with a high-efficiency model makes you a partner in LOTT's mission to preserve and protect public health and the environment.
Homeowners can receive rebates for up to three toilets per address. A business or apartment complex purchasing multiple toilets can also take advantage of LOTT's Toilet Rebate Program, really increasing their project savings. Commercial or multi-family properties with multiple toilets may be eligible for additional water-saving incentives.
For more information or a list of eligible toilet models, visit LOTT online or call them at 360-664-2333.