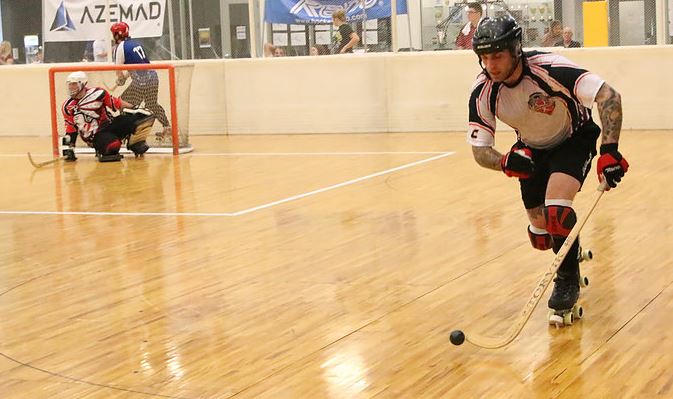 Hardball Hockey. Quad Hockey. Rink Hockey. Roller Hockey.
No matter what you call it, the thrill is the same. Roller hockey is a sport of speed, agility and intelligent game play. Pucks are replaced with hardballs. Shorter sticks are used for precise ball handling and traditional quad roller skates are worn to support quick stops and shrewd maneuvers.

For nearly 30 years, Skateland has opened its doors to the men, women and children of our community, allowing them to train together, honing their skills and contributing to a legacy of comradery and winning that lives on to this day. With more Team USA Roller Sports Indoor Hockey members than any other single club in the nation, the Washington Warriors have set a standard of excellence that few can match and have established a program that our community can take pride in.
I have often wondered what sets the Warriors apart from other clubs and how they manage to nurture and retain such high caliber athletes. To find the answers, I went to the experts, Warriors members Raleigh Bamer (age 34, defender/forward), Dylan Sordahl (age 28, defender/forward), Shane Enlow (age 35, forward), Bill Mihay (age 35, goalie) and Kaylee Logan (age 16, defender).
"The Warriors come from a long line of dedicated, determined and talented people. We have a group that has been around since the early 1990s and are committed to keeping the spirit alive through the growth of our younger players," explained Raleigh. In fact, many of the players can boast over 20 years of commitment to the club, each one getting their start at Skateland.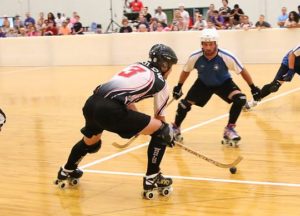 Shane, who coaches the youngest players in the league, says Warriors succeed because they love to win. "We can't get enough of it. We love being the champs and it shows with 13 National Championship title wins in the World Class Division."
But, few successes aren't without struggles. Over the last decade, the senior men's team has been without a coach. "It's difficult at times keeping the motivation alive without the feedback and guidance of a coach at practice," shared Dylan.
"The challenges are everyday!" joked Raleigh. "I'm getting older and these kids are getting better and faster by the day. I have to focus on keeping to my regiment of practice and workouts and developing and adapting to the role/position I need to play to benefit my team the most."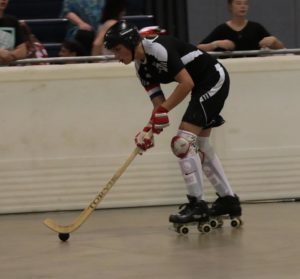 "My greatest challenge would definitely have to be my mental game. I am still a fairly young player and there are times I don't make the right decisions on the floor," admitted Kaylee. "Sometimes I will make a pass I shouldn't have or sometimes I won't take a shot that I should have. I still work on this every time I play. I have to slow down my game and deliberately think about what I'm doing and why I'm doing it."
There are certain characteristics that define any great hockey player, from selflessness to consistency, even the seemingly simple ability to cooperate. To Dylan, however, these are all just parts of the most important characteristic of all, the will to win.
Perhaps it is this will, this determination, that has led so many Warriors to the highest level of play, Team USA. Dylan, Shane and Bill have represented the United States, and Olympia, on many occasions and across the globe, including Austria, Argentina and Angola, just to name a few. The Team USA First Place Title in Austria (2010) is memory all three recalled as one of their proudest.
From Raleigh, Dylan, Shane, Bill and Kaylee I learned how the Washington Warriors continue to support and produce phenomenal athletes. It's simple. It's for the love of the game.
Want to know more about your Washington Warriors? Looking to join the team, get involved or just discover where they are headed next? Contact Shane Enlow at 360-701-5740 or olympiawarriors@gmail.com.