Opals, Geodes, and Zincite, galore. Eclection, in downtown Olympia, drips with fascinating jewels and gems and artwork takes on new, fashionably seductive forms. Precious trinkets and tiny treasures hang from the walls, each piece making an individual statement. Cases of different rocks and minerals are beautifully lit, drawing anyone near.

Jacqueline Pahutski, owner of Eclection, has been a rock collector since she was a kid. The difference is that it became much more than a hobby; it is now her livelihood. At age 18 she started making jewelry and going to vending events up and down the west coast. She frequently spent time in Oakland doing repairs at a jewelry shop. This was a valuable time during which she built skills that would grow into what is now Upcycled Shiny Things, her custom line of jewelry. "The first time I made a substantial amount a money was very validating," she reminisces.
Pahutski understands and respects the process of finding her gems from specific vendors. Every year she goes to Tucson, Arizona and visits the world renowned Gem and Mineral Show. The show is spread throughout town with endless possibilities for finding the most rare and sought-out beauties. Pahutski has been going for five years and exclaims with certainty, "I'm pretty sure I'm never going to stop. I love building relationships with select vendors, supporting one family and knowing they did the mining, cutting, polishing, and they're the ones at the booth. There is no middle man." Tucson offers great desert hiking as well, something Pahutski enjoys to get her own rock hunting fix. Some of the larger vending events have taken her to Bellingham, Chicago, and San Francisco. She'll also go to Eastern Washington to seek her gems. Pahutski says, "I love traveling, but I opened the shop so I wouldn't have to do it every weekend."
Eclection is filled with dazzling charms, most of which are from various local jewelers. When opening the store Pahutski focused on supporting local artists. "I know a lot of people in this town," Pahutski says, and she intends to share her space with the artists that have supported her in past and present endeavors. Jewelry isn't the only item on the shelves. New Petals Farm, a Bellingham company that grows its own herbs and specializes in tea remedy blends, has a prime spot showcasing tea and shampoo at the shop.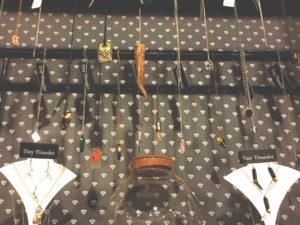 Pahutski is an efficient hunter of stones, minerals, vintage textiles, lace, and strange animal parts and fur, but the thrill of the shop reaches far beyond treasured collector's items. The shop showcases her role in the community as a supporter and warm host for the artists and jewelers' network in Olympia. She is happy to reach out to local artists, featuring their work and helping them become established in their profession.
Pahutski will eventually start teaching people how to make jewelry at Eclection. She is eager to teach various methods of jeweling just as she started, with beading, wirework, recycling metals, and silversmithing with Bill Dawson, Pahutski's first mentor.
Eclection can be found on Instagram and Jacqueline Pahutski can be reached through email. The store is waiting for your visit at 210 1/2 4th Avenue in downtown Olympia.