You won't find this statistic on the back of Stephen Vogt's baseball card, but the big league catcher's wife, Alyssa Vogt, states her husband puts more hard work into this than any other aspect of his game.

A two-time MLB All-Star with the Oakland A's, Stephen Vogt's role shifts drastically when he's not crouching behind the plate or stepping into the batter's box.
"A lot of people ask me, 'What does Stephen do during the offseason?'" Alyssa Vogt said. "They think he's out playing golf every day. They're always surprised when I tell him he's a stay-home dad."
Hitting a postseason, game-winning walk-off RBI single – something Stephen Vogt did for the American League West Division champion A's in Oakland's 2013 American League division series against Detroit – is difficult, but it's nothing compared to the chaos which comes when parenting three young children.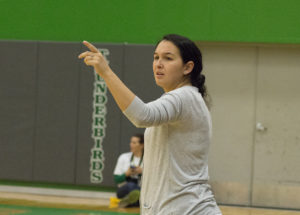 The Vogts are parents to 5-year-old Payton, 2-year-old Clark and newborn Bennett. The couple lives in Oakland during the baseball season, but once the year ends, they pack up and head to Tumwater where the roles are reversed.
"After his season is over he says you supported me for nine months I'm going to support you for a couple months here," Alyssa Vogt said. "He does everything. He does grocery shopping. He takes the kids to school. He gives me every opportunity for me to be able to do this and I absolutely love doing this."
While Stephen Vogt is holding down the household, Alyssa Vogt is coaching the Tumwater High School girls' basketball team.
"Stephen and I are both at the point where we want to give back and this is an opportunity for us to do just that," said Alyssa Vogt, who is in her third season with the Thunderbirds. "If you told me nine years ago when we got married that I would have a husband that is a two-time All-Star in the big leagues, we'd have three kids and I'm coaching high school basketball in the offseason, I wouldn't have believed you."
But, that's exactly where they are now. However, the road to Tumwater for the family took plenty of detours.
The couple met while they were attending Azusa Pacific University where Stephen was an All-American and Alyssa, a 2003 Capital High School grad, was a standout on the basketball team.
It wasn't until Stephen Vogt was drafted in 2007 by Tampa Bay that things really got hectic.
"During one year we moved 12 times, from beginning of spring training to the end of the season," Alyssa Vogt said. "We lived off very little for a long time and we lived in some very interesting areas, but the priority for us was to be together. For me I was willing to work any job I could get just so we could be together during the season."
Stops in Columbia, Charlotte, Montgomery, Durham and Sacramento were frequent before Stephen Vogt made his MLB debut in 2012.
A trade to the Athletics occurred the following year. It was in Oakland where he made the first of two consecutive All-Star game appearances in 2015.
"I think the hardest part is living in two separate places," Alyssa Vogt said. "We've learned to kind of live in tubs. We have these big tubs with all our stuff. It's hard, but it's all part of the story and that's what we love about it. He's not going to be (playing baseball) forever. We're hoping a couple more years. The fact that he's got to this point is incredible. We want to take advantage of everything we can. For him that's in baseball and for me it's in coaching."
Alyssa Vogt's T-Birds are currently eyeing a postseason appearance as they currently find themselves in third place in the ultra-competitive 2A Evergreen Conference, saddled in the standings behind crosstown rival Black Hills and W.F. West, two of the top-ranked teams in the classification.
"This team has been amazing. This is the hardest working group that I've been around," Alyssa Vogt said. "I love that I'm able to be here and help these girls. One of the hardest things about moving all the time is it's difficult to get rooted in a community. That's what I think is so great about Tumwater. They have that community mentality. It's a family around here. It's the culture we're trying to build with girls' basketball."
Tumwater, which is led by seniors Sierra Snyder and Brooke Hare this season and features a strong cast of younger players, closes out its regular season schedule at home against Aberdeen on February 7 before starting 2A District 4 basketball tournament play on February 10.
"I'm trying to be a mom right up until the game and then I hand them off to Stephen right before I give my pre-game speech," Alyssa Vogt said. "It's been crazy, but it's been really fun."