The Thurston County Bicycle Commuter Challenge, also known as BCC, will celebrate 30 years in 2017.
The event has grown and evolved since its incarnation – when around 30 people in Olympia wanted to challenge each other – and especially since the event has been hosted by Intercity Transit the past 10 years. The public now looks forward to a series of events from February through June, all geared to encourage people to get around by bicycle, with the biggest challenge event held in spring.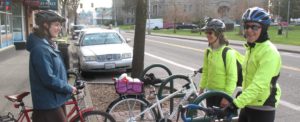 For now, the group is gearing up for their Winter Mini-BCC, which runs during the month of February.
"The bicycle is the most efficient and sustainable mode of mechanized transport ever invented," shares Duncan Green, bicycle commuter challenge coordinator. "The benefits of bicycling for transportation are too many to list, but include better personal health, fitness and well-being, reduced traffic and parking problems, reduced air and water pollution and reduced carbon footprint."
Plus, he says, bicycle commuting is fun, can help support the local economy and can be combined with public transit to extend range or use during inclement weather.
"We introduced the Winter Mini-BCC in 2013 by popular demand to celebrate the several hundred hardy souls that choose to use their bicycles for transportation year-round in our community," explains Green. "It is an informal challenge designed to encourage and show support for year-round bike commuters."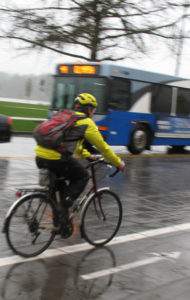 Participants sign up online and give a brief description of their winter bike commuting habits. They are then entered in the contest to win prize drawings each week in February for bike lights, fenders or similar practical biking related items. Nearly 200 people signed up in 2016.
"The Winter Mini-BCC is a more challenging event, but still manageable with the right gear and attitude. Even in our relatively mild climate, there are some challenges involved in getting around by bike in winter. It's important to be properly equipped – especially with good lights, fenders and rain gear. Also required is a positive outlook and just a little toughness to get out the door and on the bike when it is cold or dark or raining," he says.
That said, he reminds us that there are quite a few nice days here during the winter when biking isn't that much different than in spring or fall. "Just keep that winter gear with you in case things change in a hurry. We'll be here to cheer you on and you could even win a prize," encourages Green.
Riders participate in the winter challenge for different reasons:
"When I started I couldn't ride up hills, didn't own a bike, was overweight and paid $25 per month to park my car at work," says participant Steve Boessow, who started biking in 2007. "In the first year I lost 30 pounds, gave up the parking sticker and can ride up San Francisco hill fully loaded. Thanks Thurston County Bicycle Commuter Contest!"
"I participate every year. It's a great way to get motivated for biking and learn new ways to get around," says rider Danielle Koenig.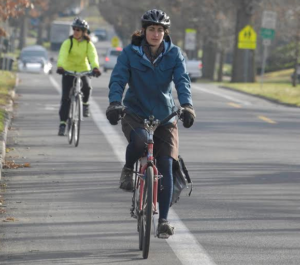 If you're not quite up for winter biking but think you might like to try it in the spring, stay tuned to the Thurston County Bicycle Commuter Challenge social media outlets or join their mailing list and sign up for the Bike Month Bicycle Commuter Challenge in May.
Find out more about the Winter Mini-BCC and all their other great events on their blog.
For more information contact coordinator Duncan Green via email at dgreen@intercitytransit.com or call 360-705-5874, 8:00 a.m. – 5:00 p.m., Monday-Friday, January through July.
                                                                                                                   Sponsored