"Darkness cannot drive out darkness; only light can do that.  Hate cannot drive out hate; only love can do that." – Dr. Martin Luther King, Jr.
Dr. Martin Luther King, Jr.'s legacy is one that lives, breathes and impacts us all today as much as it ever has. While we collectively honor his influence with a national holiday, it's the smaller, more personal ways we honor him that tend to create meaning and remind us of his still relevant message.
One of the ways our community has historically honored Dr. King is at the MLK Banquet, held annually for the past three years at South Puget Sound Community College. The event, held this year on January 14 at 6:00 p.m., has been part of the Artist and Lecture Series since 2015 but has been an important event, organized by The Thurston Group of Washington State for much longer.
The Thurston Group was founded in 1994 by Larry A. Jenkins and a group of African American and Native American parents in the county looking for leadership and educational opportunities for their own children. Barbara Clarkson, Jenkin's sister and her husband Virgil, joined The Thurston Group helping to expand and further their mission throughout the years.
The Clarksons are well known for their community work and educational advocacy, particularly in helping students achieve a better life through access to higher education opportunities. It's this passion, played out through the work of The Thurston Group, that make the MLK Banquet a perfect match with SPSCC.
"SPSCC is lucky to be able to partner with The Thurston Group on this amazing event," shares Kelly Green, Director of Public Relations and Events. "SPSCC is now the home for the MLK Banquet and we love that we can partner together to bring in important speakers from around the nation and a larger audience by pairing the event with our Artists and Lecture Series."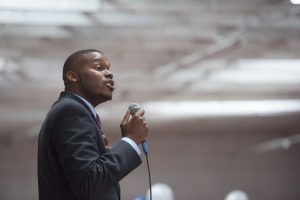 This year, the keynote speaker will be Michael Tubbs, the mayor-elect of Stockton, California, and the first ever black mayor of the city. Tubbs is a first-generation Stanford graduate from South Stockton. He will share his energy and passion for education, community, and policy. After a tough election season, Tubbs' message will include reflections on the election, how communities can work together to promote positive progress and the idea of education as a fundamental right as promoted by Dr. King himself.
"Michael Tubbs is a dynamic speaker and I hope people take the opportunity to hear his message," says Green.
While the keynote address is often the highlight of an event, the MLK Banquet offers much more. Each year, The Thurston Group awards their annual scholarships to current high school seniors to aid in their transition to higher education. Now scholarships will be given to current SPSCC students, furthering their journey towards a degree, and a better future.
Scholarships will also be awarded by the South Puget Sound Community College Foundation. The Foundation is the non-profit arm of SPSCC working tirelessly to eliminate financial barriers for students to achieve more through higher education.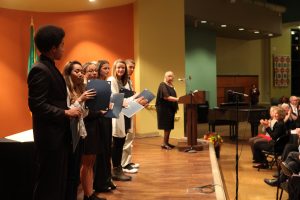 "We are proud to partner with not only The Thurston Group, but with the SPSCC Diversity and Equity Center (DEC) to present scholarships at this event," shares Tanya Mote, Executive Director for the Foundation. "A primary goal of the Foundation is to support underrepresented students," she explains. To achieve this goal, the Foundation partners with the DEC and many other programs throughout to college to connect students needing support.
The DEC's is an on-campus organization that provides "a safe, hate-free space where ALL students can connect with their own communities and learn from others. We are dedicated to respectful learning, community building, and the appreciation of diversity." Through clubs and programs such as diversity leadership training, peer mentoring programs for new SPSCC students, the Black Student Union, the Native Student Alliance, the Pacific Islander Club, and more, students are finding the support they need to be successful.
"The Foundation feels honored to partner with the Diversity and Equity Center," says Mote. That extends to the scholarships they will award at the MLK Banquet, including their newest scholarship for a DEC student sponsored by the Gateway Rotary Club.
For many involved in promoting diversity in higher education, the MLK Banquet is an annual must attend event. "This event highlights the incredible groundwork the Clarksons have laid by creating higher education opportunities for students in our community," says Mote, noting the incredible impact of both Barbara and Virgil over the years.
Attendees will be treated to the unique co-emcee talents of mother and son duo Cathy Alston, Educational Planner at SPSCC and Alan-Michael Alston, Program Coordinator in Student Financial Services. In addition, student success stories and highlights of scholarship recipient accomplishments will be shared.
Among those accomplishments highlighted will be the success of past Thurston Group Scholarship recipient and 2012 North Thurston High School graduate Ruben Ramirez. He will be the featured student speaker this year and is currently attending Central Washington University.
In addition, several awards will be presented to community groups, individuals and businesses making a difference in the areas of promoting and supporting diversity and higher education.  Included in the presentations will be the Humanitarian Award given to the Black Alliance of Thurston County, the Leadership Award being presented to Olympia Police Chief Ronnie Roberts, and the Business Award to Olympia Federal Savings.
Tickets for the event are selling quickly at $40 each and can be purchased online here. Held in the Student Union Building on the SPSCC campus, the event features appetizers at 5:30 with speakers starting a 6:00 p.m.
Visit the event page online for more information or call the SPSCC Foundation at 360-596-5430 with questions or requests for sponsorship.
Sponsored