When it comes to memorial markers, images in catalogues or brochures are no substitute for touch. "People love touching the granite versus seeing one in a book or in a brochure," says Tony Ward, owner of Lasting Touch Memorials in Olympia.  "They like feeling the rock itself, the smoothness of it, and seeing the color of it."
Ward's customers will soon have more options to explore. He's in negotiations to rent a large space next door to his current location, allowing him to expand his offerings. "I need a larger door in the back of the facility just to get the stones in," he says. "This way I can include different sizes, shapes, and colors in my stock."
When clients come to Ward to arrange memorial markers either for themselves or their loved ones, his job starts with listening. "I listen for what the person's interests were, what they did for a living, and what they were like," he says. "I put that all down in my notes and then start to develop the stone from there."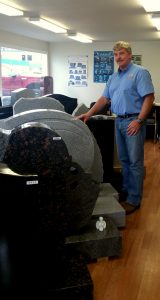 Mainly, he listens for what they valued. "One of the things I ask over and over is, what were their passions?" he says. "Did they belong to any organizations or fraternal clubs? What did they do after they retired? Did they golf a lot, did they travel, and if so, where did they travel?" The answers often end up as symbols on the memorial marker in accordance with the family's wishes.
Often, he encourages families to engrave both sides of the stone and include a genealogy tree. "I don't charge per letter," he says. "Poems, verses, names, dates – all of that is free. The charge is just for the stone itself, so it doesn't cost any more to print on the back side."
Ward learned the art of working with families while working at a local cemetery; after years as a UPS driver, he wanted a change of pace. "There was an ad in the paper for a qualified driver at a granite company in Tacoma," he says. Eventually the business reduced its focus to headstones only, and Ward moved up to superintendent. Later, he did an apprenticeship at Mountain View Funeral Home as a funeral director and embalmer. "I didn't like that," he says. "I finally decided, 'I'm not going to work for anybody else. I'm going to work for myself.'" In 2000 he started Lasting Touch Memorials, which was originally located in Yelm.
Over the years he's seen many changes in the industry. One of the biggest adjustments is the increasing popularity of cremations. "When I started in the late 1980's, the cremation rate in the state of Washington was really low," he says. "It was probably around 50%. Now it's about 77%, nearly 80% around the Canadian border." Ward offers specialty funeral urns for clients who choose that option.
He's also noticed more demand for stones created in the U.S. That's a challenge, because American products can cost more than ten times as much as foreign ones, he says. "My products come from all over the world – Europe, China, and India," he says. "Once in a while I get clients that want American-made stone. That's something I'm considering as part of the move, having an area that's just for American products."
For more information about Lasting Touch Memorials, visit www.lastingtouchmemorials.com or call 360-458-9070.
Sponsored