Cold, rainy days can be hard on even the strongest Washingtonian, but what if you have a new baby or toddler at home?  Suddenly, your options get even more limited. Hike it Baby Olympia is here to help you beat cabin fever.

The national, non-profit organization Hike it Baby started just over three years ago in Portland as a way for parents to get outside with their children. With more than 300 Hike it Baby groups across the country, and a few popping up internationally, many more people are joining in the fun.
For local Olympia branch ambassadors and friends, Anna Boechler and Jessica Foster, it was a great way for these military wives to meet new people and get to know the Pacific Northwest. "There's so many mommy and me type things, indoors, story times, and yoga. I just wanted to get outside and do something you don't do every day. And it was so easily accessible to me. You just show up," Jessica shares.
Jessica saysshe and Anna originally met through an infant play group and immediately bonded over their similar situations. With military husbands, young children, and not knowing the area very well, it wasn't always easy to find something to get out and do. But that all changed when they both got involved with Hike it Baby. "It was just like a mom tribe instantly and that support system that you need. And I got to explore the surrounding areas while getting exercise and fresh air. You also get to go and figure out how to be a better mom by going outside."
Anna says for her it was all about finding something unique to do and getting adult interaction too. "I think I just liked the idea behind it. We have a motto, 'No Hiker Left Behind,' and it really empowered me as a new mom. Yes, I might not be as fit as I once was, and I might be dealing with a diaper blow out or need to nurse, but I'm with a tribe of people that all understand me. I can get outside with my kid and it will be ok," says Anna.
Anna explains how friendly the group is even if it is your very first hike and you don't know anybody. That's why they begin every hike with a welcome circle where parents introduce themselves, their child, and where they are from. It is an easy way to break the ice and see what you might have in common others in the group.
One thing that sets Hike it Baby apart from similar groups is it's not just for moms. Dads are welcome too, or even grandparents, nannies, or whoever is taking care of the kids. Anna and Jessica say their branch strives to be all-inclusive. Anna says even when the hike doesn't go as planned, she's always glad she went. "I never feel anxious. It feels very natural and very accepting. Everyone gets it, and we are all in the same boat. Everyone has the same goals. Yes, we would like to hike these four miles, but if we don't do it, it's ok."
Hike it Baby Olympia offers a variety of hikes for all different levels and situations because, as Jessica tells me, "The biggest thing is to get kids and families out in nature." And you can bring your older kids as well. The group tries to do at least one hike a week, and they vary from walks around town to more rugged outdoor adventures. What's great is their calendar tells you exactly what to expect, including restroom availability, parking details, length of hike, and whether it's a stroller-friendly and/or dog-friendly hike.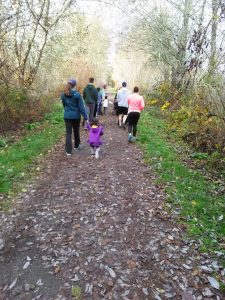 Don't worry if you don't have a bunch of outdoor gear for your kids. Hike it Baby Olympia is able to help. Whether it's borrowing an umbrella or even a backpack for the day, they've got you covered.
Anna and Jessica say because Hike it Baby has spread all over the country, it's great to join other branches as well. If you are traveling to a new area, you can get tips on where to go and what to explore. "We're not only connected to like-minded parents who want to get their kids outside in the Olympia area, but also nationally we see what people are doing in Alaska and what they are doing in Florida," Anna explains. She says as group leaders they often just like to see what other areas are doing and get fresh ideas to use here. It's one big network, all with a common goal, getting families outside together.
Try Hike it Baby Olympia. You won't be out any money, and you just might make some great friends and find a new place to explore. In Jessica's words, "Do it. There's really nothing to stop you. That's why it's great to be in a parent tribe, because we've got your back. Come hike with us. We will take care of you."
You can find Hike it Baby Olympia on Facebook, but they are a closed group so you will need to ask to join the group to see all their posts.