Submitted by Dr. Jay Rudd for Aurora LASIK
As I look back on our first year at Aurora, I have so many people to be thankful for.
Our patients – You have entrusted us with your eyesight, your most precious sense. We understand how much courage it takes to allow someone to perform a procedure on your eyes and we are so grateful that we were that "someone." Many of our patients tell us they wish they had done it sooner, and we're grateful their experience has exceeded expectations. Many of you have referred your friends and family to us. Thank you!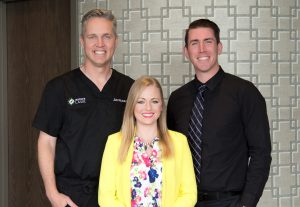 Our Staff – At Aurora LASIK, I feel like we have established an outstanding core staff that feels like family. From Lacie's welcoming personality (can you believe she remembers everyone's name?) to Craig's thorough explanation of the different surgeries we offer at Aurora, our patients constantly comment on how welcome they feel in our center. Even when Iva, Krystle or Stephanie persist on taking "just one more" picture of your eyes, they do it with a smile and an explanation of why the test is so important.  These wonderful technicians also work so hard to make your surgical experience smooth and worry-free. Even the newest member of our family, Clinic Director Nicole Ivie, has stepped in and already contributed to the family atmosphere. Welcome Nicole!
Our referring doctors – One of the most challenging things with opening a new clinic is the establishment of trust from referring doctors. I have been fortunate enough to work in the community for 16 years, so I have met and worked with many of our fine local optometrists. However, until I opened Aurora, I did not see many of their patients for LASIK. Many now have seen the technology, they understand the quality patient experience and they have started to refer their patients here. Thank you for trusting us with your patients.
I continue to feel fortunate to work with my outstanding staff in providing high quality vision correction surgeries here in the South Sound. We will continue to grow our family of patients and reach many more of you in the community. We are working to establish business relationships with many employers in the area, hopefully making LASIK attainable for everyone who is a candidate. Talk with your employer and see if they are willing to offer a LASIK benefit for you.
Thank you for making 2016 a fantastic first year of business. I look forward to another great year in 2017!