It's been almost four years since Forrey's Forza coffee shop first opened their doors in Hawk's Prairie, building a niche with a great space, fresh menu, and fun events. Owner Christine Forrey says they first had the idea for their business when her husband Tom unexpectedly lost his long-time position with the Seattle Times. Because he was a master at making homemade pies, they figured they could open a coffee shop and feature his desserts.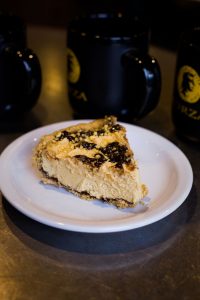 As I look at the impressive display of pies, pastries, cookies, and quiches, it's obvious their idea grew into something much bigger. What started as a simple idea has turned into a successful business for the family, including Christine's mother, who makes many of the baked goods. "Everything is homemade. We are friendly and it's a local business. And we have the best mouthwatering pie."
Christine says they all work long, tiring, hours, but it's so different than working for someone else. "When you have your own business you're working toward a goal, that's your goal. Everything you do gets you further. It's about what your goals are, not fulfilling someone else's," she adds.
Because Tom and Christine are very driven, they knew they needed to make their business stand out in the crowd of coffee shops around town. "Most coffee places close at 6:00 p.m. We're just getting started." At Forrey's Forza, business doesn't stop when the sun goes down. They serve beer and wine, along with a wide variety of food and pastries. "We give customers a reason to come. And you don't want to sit empty at night. You want to have something fun." Recently Forrey's Forza debuted a new Happy Hour menu complete with delicious flatbread bites, bruschetta, a veggie plate with dips, and cucumber hummus bites, all for a great price.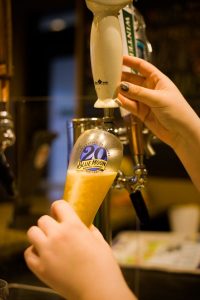 The creativity isn't limited to the Happy Hour menu. Christine says they spent many hours fine tuning their lunch/dinner menu to meet the needs of their customers. Find a wide array of delectable sandwiches like the Mom's Grilled Beef and Cheddar or the Pulled Pork sandwich, both served with homemade potato wedges. For a great salad, try the Stuffed Tomato Tuna Salad or my favorite, the Classic Bleu Cheese Wedge. Pizza lovers can choose from the Caprese, Mediterranean, Garlic Chicken, or Powerhouse to tempt your taste buds.
Even with great food, owners Tom and Christine want to keep things interesting for their customers. Wednesday's Trivia Night is complete with prizes and giveaways. But if that isn't your thing, their jam-packed calendar is sure to have another event to suit your liking. From beer and wine tasting, to a Paint and Sip Class, they really do have something for everyone to enjoy.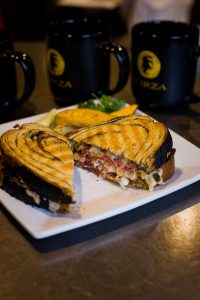 Another beneficial choice was to include live music on Saturday evenings from 7:00 p.m. – 10:00 p.m. and occasionally on Friday nights as well. "It's about community. I like to call us a community center for this part of town because it's where people hang out. The thing we hear most from customers is that you walk in and it's like you're in your living room. We want everyone to think that they're at home and that's what it's about," Christine explains. You can find all different styles of music depending on the week and there is never a cover charge. Plan to stay all evening.
If you need a quick bite or caffeine stop, swing through Forrey's Forza drive-thru or place your order over the phone so it's ready when you arrive. For those who don't want to leave their homes or offices, delivery is now an option through PugetSound2Go as well. "When customers order we ask them to take a seat and we serve the coffee. We don't ever just hand somebody coffee over the counter. We deliver to their table. It's customer service and it's Forrey's Forza customer service, a cut above. We want to be that next level."
What started out as a dream for coffee and pies has grown into a thriving, unique, business model. "I love my business. I truly love the people that I get to see and be with. It's the best job in the world," says Christine in summary crediting the wonderful people Forrey's Forza has brought into her life.
Forrey's Forza
130 Marvin Rd SE in Lacey
1520 Wilmington Dr. in DuPont
Follow Forrey's Forza on Facebook.
Sponsored