The holiday season rolls around earlier every year. Bowls of Halloween treats become Christmas cookies in the blink of an eye. But thanks to the annual Saint Martin's University Jingle Bell Run, you can burn off a few extra calories before New Year's celebrations and Valentine's chocolate take hold.
This year's 5K run/walk/saunter/jog/stroll takes place on Saturday, Dec. 3, around, across and through the University's gorgeous Lacey campus.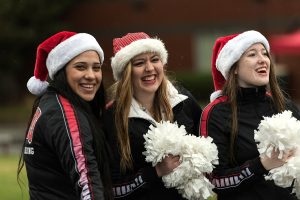 "The Jingle Bell Run has developed into an annual community holiday event that, in addition to generating scholarship support for our Saints student-athletes, provides a great opportunity for our campus and athletes to be involved with the local community," says Athletic Director Bob Grisham of the all-ages fundraiser.
The holidays are all about togetherness; time spent with co-workers, neighbors, family, and friends. Therun is a chance to be outdoors, reveling in the sights, sounds and smells of the season…while getting a little exercise too. Generations of student athletes—and your waistline—will thank you for it.
Jingle Bell runners are encouraged to break out their favorite ugly Christmas sweaters and gaudy—sorry, 'exuberant'—seasonal scarves, hats, elf-ears and accessories. Santa and Mrs. Claus will wait at the finish line with cocoa, cider, and cookies. Awards will be delivered to the most festively-dressed participants as well as the top finishers of the race's competitive portion. Registration is available online whether you plan to race or just meander your way across the finish line. The competitive portion begins at 9:00 a.m. for those willing and able to complete the race in under 30 minutes. Everyone else, including high-speed stroller-racers, starts at 9:45 a.m..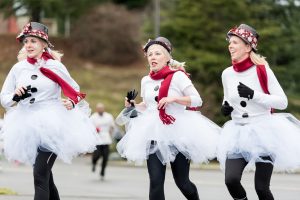 With registration, racers receive a commemorative shirt, race number and chip timer. Swag bags will be presented to the first 500 people at early check-in, from 3:30 p.m. to 7:30 p.m. Friday, Dec. 2, from. Finish-line celebrations start at 10:15 a.m., with snacks and Santa photos galore.
Parking for the event is free in the Marcus Pavilion lots off Pacific Avenue SE. Not much of an athlete? At the Jingle Bell Run you can trade cheers and encouragement for treats and Santa selfies. All spectators welcome!
Saint Martin's Director for Fundraising Events and Corporate Sponsors Dana Pethia says she's excited about this year's Jingle Bell Run.
"It's the best way to usher in the Christmas holiday season with family and friends," she says. "Proceeds from Jingle Bell Run directly support Saints student-athletes as scholarships and program support."
Individual adult registration is $40, or $30 with military ID. Students in middle school, high school or college register for $10 with ID, and kids 11 and under are free. Teams, especially those with themes, of three or more are $35 per person if team members register together.
Drum up support for your team or invite family and friends with the hashtag #SMUJingleBellRun or by forwarding the official Jingle Bell Run Facebook event page.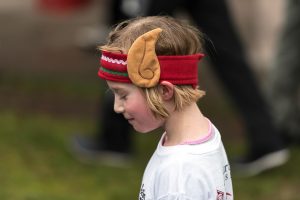 High school participants should set their alarms a little earlier and plan to come to a free, informational 8:00 a.m. breakfast program. University 101: How to Become a Division II Student-Athlete is a meet-and-greet-and-eat with Saint Martin's coaches, athletes and professors. RSVPs are necessary. Just call 360-438-4366 or email special.events@stmartin.edu and bring your student ID along on race-day. Space is limited so sign up early. (Parents can come, too!)
Can't attend but still want to send a donation to Saints athletics? Read more and make an impact on the school's Giving page.
For questions about the event, contact Pethia at 360-486-8885; DPethia@stmartin.edu. You can also find a list of Frequently Asked Questions, including details about official race bibs and timing chips, on the event page.
The race starts at Saint Martin's University's Marcus Pavilion at 5300 Pacific Ave SE in Lacey.