Brilliant minds are amongst us in Olympia. The knowledge and desire to create and inspire can be an extraordinary tool for an artist. Sandy Cavin, gently yet intently, chips away at the marble, exploring her culinary passions. She is driven, applying her skills in food and wine toward many adventures in life.

Fulfillment can come in many forms and can function differently for each individual. For Cavin it is in the form of travel and happiness, as well as the uplifting preparation and process of nourishing meals. These actions Cavin pursues always include aspects of art, education, and community awareness.
Cavin received her Masters in Culinary at the Art Institute and made a strategic point to know the trades of baking and pastry, butchering, Pacific Northwest foods and wines, and restaurant management. She then proceeded to work in restaurants around Olympia before opening her own catering company, before starting Siena Wine Bistro. Much like any career, gaining hands-on experience in an industry as unique as hospitality and restaurant service is crucial to trade development. This aspect provides practical knowledge and springs to life new encounters and skills.
Cavin elaborates on the differences between being an independent chef/caterer and a restaurateur. "The dynamic is different when you're responsible for a lease on a space and employees. It puts a cap on fresh ideas." Realizing her passions were to simply create for personal and community enjoyment, she has stepped away from the busy kitchen and illustrates her ideas with private dinner parties, catering for weddings and special events.
Cavin intends for every part of her dinners to be a journey for the guests, from the artistic presentation to the communal table. She also stresses the importance of utilizing the connections in her community for sourcing produce and meat. Knowing the farmers for her dinners builds a relationship that can't be replicated anywhere because of it's depth and importance in community ethics.
The next community endeavor Cavin will participate in is catering a benefit dinner, November 14, for the recently awarded 501(c)(3) non-profit Empowerment 4 Girls. Empowerment 4 Girls is an all seasons community outreach program with camps, workshops and lectures for all girls, ages 9-16. The director and founder of this program, Kristen Rubis, has been a dedicated educator and mentor for many outlets in Olympia.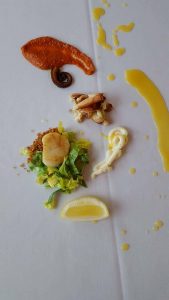 The dinner will be hosted at Dockside Bistro and Wine Bar as Chef Laurie Nguyen has opened her doors, complimentary for the cause. This dinner highlights not only the progressive and positive energy for generations of girls to come, but it effectively becomes a model for "lifestyle development," showcasing local support from vendors, business owners, volunteers, and donors. This event is bringing many together and is "vital for the community of Olympia, and the future of girls," Cavin says.
Passions are high, and beauty is everywhere. Appreciation and communication is perpetuating in the air, and there is a sweet exchange between colleagues and observers alike. A community should function flexibly, as an "heirloom idea." Working with what is given to us, staying strong and adjusting to the weather, and finding ways to sustain positive growth during each generation. There are people in Olympia that are working everyday toward that goal, whether it's concerning the broad topics of food, development, social gestures, or environment. Olympia has an identity of it's own and Sandy Cavin is thriving with so many others to reinforce this lovely community many of us have the pleasure to call "home."