Darld Brannan has been a volunteer with Providence SoundHomeCare and Hospice for more than a year. He's a veteran who understands the special needs of vets who are on hospice.
Brannan is a member of the Providence We Honor Vets program, designed to extend simple acts of gratitude, honor and companionship to veterans in Providence's care.
"The vet-to-vet companionship provides ongoing weekly visits to provide emotional support," said Providence SoundHomeCare and Hospice Volunteer Services Coordinator Bethany Opstedal. "Visits may include discussion of military service and life review as the patient desires."
The offerings are customized to the patient, based on his/her preferences.
"Gestures can be very meaningful to all vets, and particularly for those who were never truly 'welcomed home' from combat, thanked for their sacrifice, or felt honored for their service to our country," said Opstedal.
Pinning a deserving veteran
Earlier this year, Brannan was matched with retired Col. Thomas Fitzgerald, who is a Providence hospice patient living at a local skilled nursing facility.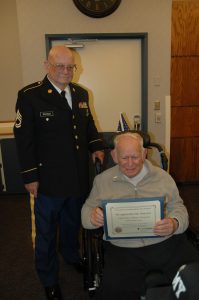 "Through their regular visits, it surfaced that Col. Fitzgerald (and family) would probably appreciate an honoring ceremony due to his extensive service," said Opstedal. "At that point, the Providence hospice nurse reached out to Col. Fitzgerald's family and coordinated the planning."
A "pinning ceremony" was held. This is a formal honoring of the veteran, thanking them for their service on behalf of Providence SoundHomeCare and Hospice. It includes a reading, a certificate, a pin and a salute.
Brannan read the following:
"Thank you for your service to our nation. Thank you for the sacrifices you made and your willingness to serve our country. You endured hardships and you were willing to risk your life to maintain our freedom. You have displayed inner integrity that is called upon for any soldier. War cannot be forgotten- so we take this moment to honor you, to thank you, and to express our love and caring for you. On behalf of Providence Hospice, please accept our thanks and gratitude. When you see this pin, you know that your service to our nation is deeply appreciated. Thank you."
Col. Fitzgerald, family and the nursing home staff were able to share some of his history and medals he had received with the Providence team.
"It was a special treat for my dad to be recognized for service," said Col. Fitzgerald's daughter, Sarah. "It was a joy to see him light up and recall his Silver Star, Bronze Star, two Purple Hearts …. I'm grateful for Darld's visits with my dad, and for the care Providence provides."
Providence SoundHomeCare and Hospice in Thurston County
Brannan is one of 16 veteran volunteers and more than 110 active volunteers of the Providence SoundHomeCare and Hospice team who help support patients and families (both in patient care and through grief support services) in Thurston, Mason and Lewis counties.
He is also an active volunteer at Providence St. Peter Hospital and other community organizations.
"We are so lucky to have volunteers like Darld on our team," said Opstedal. "As an example, after being trained for the pinning ceremony, he went out and purchased the uniform he uses in the ceremonies; as he thought it was an important part of the honoring ceremony."
For more information about hospice services and Providence SoundHomeCare and Hospice in Thurston County, you can see a list of Frequently Asked Questions.
Providence SoundHomeCare and Hospice is located at 3432 South Bay Road NE in Olympia. You can call them at 800-869-7062.