Losing a parent is one of the most devastating things a child can experience. Yet it happens daily. In 2015, 84 kids and 54 families in Thurston, Mason, and Lewis counties turned to SoundCareKids in Olympia to navigate the tremendous weight that comes with the death of a significant person in their lives.
This year, as Providence St. Peter Foundation approaches their 29th annual Christmas Forest and Fund-a-Need event, they knew SoundCareKids was just the right recipient of the donations.
"The Providence St. Peter Foundation has three primary areas of focus currently: end-of-life care, mental health, and childhood wellness," shares Peter Brennan, executive director of the foundation. "The SoundCareKids program, which has been in existence since 1992, provides compassion and healing to children who are experiencing emotional and physical turmoil after losing someone very close to them. Research around Adverse Childhood Experiences indicates that events like these can be detrimental to the wellbeing of children later in life if they are not provided the guidance and coping skills to grieve their loss in a healthy and productive manner."
Shell St. Onge, program coordinator for SoundCareKids, is grateful to have the monetary support. The program is funded entirely by philanthropy and the support of trained volunteers.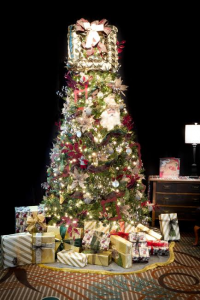 "It's a huge honor. I was so surprised and shocked," she says. "This bereavement counseling program for children would not exist if it weren't for the generosity of people who make donations to the Foundation."
The bereavement program is thoughtfully designed to reach kids at their age and development level, and to help families in the often-overwhelming routine of maintaining normalcy. That's why sessions start with pizza, as sharing a pizza is a very normal activity and a great way to show support.
"Socializing and not having to worry about dinner is important," says St. Onge. Plus, a lot of teens are resistant, she acknowledges, so pizza is a good ice-breaker.
Groups meet in three six-week sessions each year. Each 90-minute session utilizes age-appropriate activities that are intended to meet the unique needs of grieving children.
Sessions explore topics like feelings and learning how to cope with them, dealing with regret, guilt, and other unfinished business, and memories and staying connected.
"Grief is hugely developmental," says St. Onge, who is a licensed mental health counselor. "Kids in their brain development at age five are much different than kids at 15, so this program is designed to meet them where they are." Younger kid's activities are focused on movement, for example.
"Children tend to grieve in bursts. They may seem fine then out of nowhere have a total breakdown," she continues. "Commonly, we'll do a focused activity on grief and address it, then step away from it, then address again."
While the children are meeting in their age groups, the adult caregivers meet to discuss what the children are learning and how to help guide the children through their grief. Families come together at the end of each session for a closing ceremony.
SoundCareKids provides an avenue for the Providence St. Peter Foundation board and donors to support children at all ages in understanding the grieving process. The goal is to enable healthy outcomes and avoid negative consequences often demonstrated without this support, says Brennan.
"Making this the focus of Christmas Forest will not only raise much needed funds to serve these children, but also bring to light the issues that often arise because of unresolved emotions caused by profound loss and grief," he says.
This year's Christmas Forest will present 37 trees and wreaths on display at the Hotel RL Olympia. Christmas Forest opens to the public on Wednesday, November 30 and closes on Sunday, December 4. For a complete schedule of events, please visit www.provforest.org.