Luke Schilter can officially remove the label of runner-up.
One of the state's premier cross country runners, regardless of classification, the Northwest Christian senior ended his high school career on the highest of notes by winning his first Class 1B/2B state cross country championship.
Schilter, who had finished second during his three previous trips to the state meet, covered the 5,000 meters at Sun Willows Golf Course in Pasco on November 5 in 15 minutes, 56 seconds – more than 20 seconds faster than this year's second-place finisher, Daniel Ness of DeSales.
"It certainly wasn't the best of conditions," Navigators coach Larry Weber said. "It was foggy and the course was a little slippery and nowhere near fast. Luke actually fell twice during the race, but what he was able to do here was truly amazing."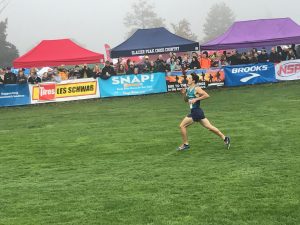 Schilter's performance helped Northwest Christian capture the overall team title for a third consecutive year. The Navigators finished with 64 total points. Liberty Bell was second with 90 followed by Tonasket with 131. Individual runners of eligible teams are awarded points equal to their finishing position with the winning team posting the lowest score.
It marks the fifth state title for the Navigator's boys' team over the last nine years. They also finished first overall in 2008 and 2009 to go with second-place finishes in 2004, 2007 and 2011.
Schilter was coming off a win at the district championships where he established a new school and district record by covering the distance in 15:05, a time that ranks third among state runners this year. Only Tibebu Proctor (14:56) of 1A Northwest and Hayden Dressel (15:04) of 3A Mount Spokane have posted faster times in 2016.
Schilter's best time in four trips to the state meet occurred in 2014 as a sophomore when he went 15:48. He also posted a time of 15:51 as a junior – both times would have been good enough to win this year's title.
Schilter becomes the first Navigator to win state since Lucas Graham accomplished the feat in 2011. Graham also won the state championship in 2009. Justin Holden (2010) and Gabe Molinaro (2004) also won state titles for NWC.
"(Luke) is such a great teammate. I think that's the thing people notice most about him. He's always willing to do whatever to help his team out," said Weber, whose team was ranked as high as fourth nationally among smaller schools. "There were a lot of people cheering him on when he finished. Everyone wanted to see him win a state title, but I think for Luke he was happier with us getting the team title than his individual title. That's just how he is."
Schilter was one of seven Northwest Christian runners to finish among the top 40 placers.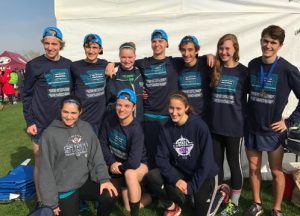 Senior Corban Phillips (17:19) finished 17th overall and was followed by freshman Garrett McSheffrey (18th, 17:20), freshman Noah Phillips (22nd, 17:31), senior Stephen Epp (24th, 17:40), senior Eli Taylor (31th, 17:49) and junior Ryan Derry (40th, 18:02).
The Northwest Christian girls team also took home some hardware, finishing second overall with juniors Ellie Summers (19:30) and Megan McSheffrey (19:41) placing fourth and fifth, respectively.
"We were very pleased with how the girls did today. We're a very young team. We had three freshmen running," Weber said. "Ellie and Megan both did incredible."
The Navigators finished third in the girls standings last year. The team won nine straight state championships between 2006 and 2014.
"So many people helped us achieve this," Weber said. "From the assistant coaches to the trainers and the parents, we just have a great group of people involved with this program."
The Rainier girls team also had a strong showing at the 2B meet, finishing 5th overall with sophomore Elaine Hansen (25th, 21:23) and freshman Sophie Beadle (27th, 21:27) leading the way for the young Mountaineers squad.
2A/3A/4A State Meet
Tumwater finished 12th overall as a team in the 2A ranks on the boys side with senior Evan Groat (16:24) coming in 11th and junior Joseph Morrissey (16:48) finishing 28th. The Thunderbirds collected 14th as a team in the girls standings. Sophomore Hannah Reynolds (67th) and freshman Savannah Owen (71st) posted the top finishes for the T-Birds.
Black Hills sophomore Ava Shackell finished 25th in the 2A girls meet, running a seasonal-best time of 19:59.
North Thurston senior Tommy Johnson was 30th overall (16:28) in the 3A state boys' meet, while senior Bella Torres (35th, 19:42) and junior Naomi Reyes (43rd, 19:51) helped the Capital girls finish 14th.
Olympia senior Kiersten Kimminau placed the highest among local runners in the 4A classification, stopping the clock in 19:18 to finish 29th overall.