Thirty-five years ago, a woman leading a technology company was nearly unheard of. In fact, women simply working in the emerging technology field was fairly rare. Defying stereotypes, Lisa Gifford and her husband Rick started Alliance Enterprises, Inc. in 1981. Although not re-named Alliance until 1996, the team at the helm has consistently led the growing company through the decades.
Lisa has called the Evergreen State home since 1979 when she moved here at just 19-years-old. Rick was born and raised in Olympia and the couple knew it was a forgone conclusion they would settle in the South Sound, bringing the strong, evolving business they had started in Seattle to Thurston County.
"It's been interesting to see the company go through so many transitions over the years and to feel like we are just hitting our prime at 35-years-old," reflects Lisa. "You would think you would hit that stride earlier, and we have had a number of periods of growth and markers of success through the years, but we are really coming into our own now."
The company began serving the emerging personal computing industry in the early 1980s. It was a time when schools and businesses transitioned from typewriters and beginning word processors to computer systems with new and unfamiliar software. Lisa and her team found a niche serving the growing need for consulting and training. Their services were invaluable to businesses, as well as schools where Lisa trained teachers, staff and students on the new technologies.
"By the early 1990s, there were so many training tools available that the demand for our services tapered off," explains Lisa. However, adaptability was part of the company's DNA. "We began to look to microcomputer development, small and mid-sized applications, productivity tools and different programming languages."
By this time the offices had moved to Olympia and renamed Alliance Enterprises. With a new emphasis on software and software services, Alliance focused on development of what would become their flagship product: Aware.
Alliance completed projects for several Washington State agencies including a two-year project for the Department of Health and Social Services (DSHS) and their vocational rehabilitation programs. "The whole idea of vocational rehabilitation touched everyone in the company," remembers Lisa.  "It was helping people through business and it resonated with what we are about in our company and our core values." Out of this realization came a company focus on Aware, a software program now utilized by multiple states to help manage vocational rehabilitation cases.
By 2008 Alliance had exceeded their primary goals in vocational rehabilitation in the national market. "But, we were still only a voc rehab software and services company," explains Lisa. How could they use their core strengths to move to the next phase?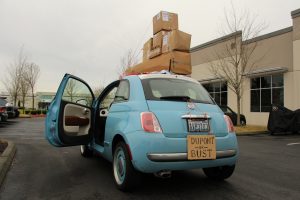 During this time, Lisa and Rick found themselves, as many business owners do, stretched thin and working outside their real passion and strengths. They made the decision to hire a CEO and brought Chris Pieper on board. Chris had started a technology company and after years of growth had sold it. His experience has proved invaluable to helping Alliance Enterprises move to the next level.
What is that level? "We wanted to serve the private sector as well as enter into cloud services," says Lisa. Launching their cloud services, aiding government agencies in moving their data and systems to the cloud, earned Alliance the Microsoft Rising Star Partner of the Year in the state and local government sector, growing their cloud business by 10 times in 2015.
Their private sector product growth grew naturally after Chris joined the team. "I knew I was great with customers," shares Lisa, "and had good relationships with them and others on staff. However, I didn't know how to delegate effectively, to share the vision of the project I was leading or check-in efficiently with the people on my team. Coordinating internally can become less of a priority than aiding customers during a busy work day."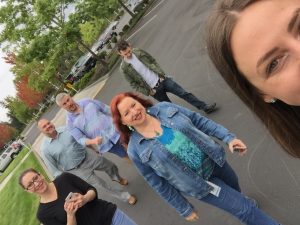 Nearly anyone who works in a team environment can relate to Lisa's sentiments. It was Chris who came up with a solution. "He told us he used a score card," remembers Gifford. "On a quarterly basis, he would sit with managers, set objectives, prioritize and describe them and then lock in a predicted score for execution during the quarter. He made it a game, trying to get the highest score."
From these initial conversations grew My Objectives, Alliance Enterprises newest software built by Rick while on a sabbatical. The company used the productivity program internally for more than six years before launching it to the public.
Today, My Objectives offers team-based, easy to use tools to help manage teams, delegate authority, track progress, build accountability and train teams. And, all of the progress is tracked in real-time with a scorecard that changes daily, fueling team's drive toward success. Plus, it's kind of fun.
"You can try to do all the work, or you can put systems into place to enable people to be successful," says Chris. "Early in my career I tried to do it all myself and it didn't work. It's a transition to being more of a coach than doing it all yourself. You get really proud when you see your team do well." My Objectives truly allows teams to succeed, working together toward common, tangible and trackable objectives. Alliance Enterprises' naming to the Inc. 5000 list of fastest-growing private companies in America this year, coming in at a stellar number 3810, shows what they are doing is working. 
Now located in DuPont on the old Intel campus, Alliance Enterprises is excited to look to the future. "We love living in the South Sound," says Lisa. "None of us want to commute to Bellevue. We want to work in tech and we want to live here, so we are growing the company with that goal in mind for the next 35 years." Lisa, recently named a Woman of Influence for 2016 by the Business Examiner, was a pioneer in the early days of the technology industry and remains one today.
Visit Alliance Enterprises online to learn more about the people, products and career opportunities growing right here in the South Sound.