Submitted by South Sound Prairies Program
Come help build bird and bat boxes and pull invasive weeds on Public Land Days at Joint Base Lewis- McChord (JBLM) on October 18 and 19 from 9 am to 3 pm. These actions will help restore prairie habitat and provide habitat structures for wildlife. You will also get a chance to learn what JBLM is doing to protect rare animals and how protecting rare animals helps soldiers and airmen train on base. No base pass is necessary.
Family and friends are welcome but please leave your pets at home. Bring water, a bagged lunch and work gloves. This event is organized by JBLM Fish and Wildlife, The Center for Natural Lands Management and the Washington Department of Veteran Affairs.
The meetup location for this event is the Earthworks facility at the intersection of Dupont-Steilacoom Rd and 7th Street. From I-5 take exit 119 to Dupont-Steilacoom Rd, continue for 2.5 miles and then take a left unto 7th Street (before Solo Point Rd). Meet at the entrance of JBLM's Earthworks Facility.
Did you know? Approximately 30% of the land in the U.S is considered public land and much of this land has important ecological, cultural and scenic value. The U.S. Department of Defense (DoD) manages approximately 25 million acres on more than 425 military installations throughout the United States. DoD lands contain over 300 federally listed species of plants and animals!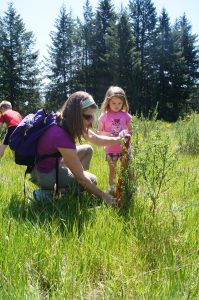 JBLM is the 3rd largest installation in the Army, and it is home to 43,000 soldiers and airmen. JBLM also contains the largest expanse of prairie remaining in this region. Once covering over 150,000 acres, 90% of the Puget Sound prairie habitat has been lost, with the majority and highest quality prairies located inside the base. A variety of plants and animals rely of these prairies for survival, including three animals listed under the Endangered Species Act: the Taylor's checkerspot butterfly, streaked horned lark, and Mazama pocket gopher.
JBLM has been working with the Center for Natural Lands Management (CNLM) and other partners to restore the prairies on base so that these lands can support both military training and rare wildlife. At the same time, CNLM has been acquiring, restoring and managing prairie lands outside the base so these off-base lands can host endangered plants and animals.
Questions? Please contact Carola Tejeda at 360-464-1024 or at ctejeda@cnlm.org