Amy Murry, owner of Human Body Works has massaged world-class athletes and most recently gold medal winners at the 2016 Summer Olympics in Rio. She feels incredibly fortunate to have had the opportunity to work with athletes at the peak of their sports. However, some of her favorite athletes are those right here in Thurston County.

"I love supporting women who have had children and are reclaiming themselves," Amy tells me in one of five treatment rooms at Human Body Works in Lacey. "We serve a population of people striving to be healthy and to be the best that they can be." She has heard from clients that they can feel intimidated by the idea that she has massaged wrestlers at world championships. Amy wants to put them at ease. "I have a favorite client that is 80-years-old," says Murry. "This is a safe place to support the process of getting fit or recovering from injury."
Amy has been a massage therapist for 20 years and has been a business owner for 18 years. She opened Human Body Works six years ago with five full-time employees at her growing business.
The benefits of massage are undeniable. According to the Associated Bodywork & Massage Professionals website, "researchers have found that alternative therapies resulted in more positive outcomes for helping people manage pain." Amy says that massage therapy is "the least invasive therapy in recovery." In cases where clients would also benefit from physical therapy, massage can soften up the muscles and release them for the physical therapist to re-educate them. The therapists at Human Body Works often work closely with local physical therapists to provide the best restorative care.
Amy has first-hand experience in working cooperatively with other health care professionals in a model of care unlike any other at the United States Olympic Training Center in Colorado Springs, Colorado. After coaching swimming at almost every club in Thurston County she joined a sports/science network to keep up on the latest research. Once her children got older she became more involved and began to travel with USA Swimming, accompanying the swim team to meets including the Pac 12 Championships.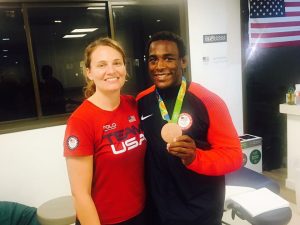 She was recommended to the United States Olympic Committee and after a rigorous application process was invited to work at the training center in Colorado Springs. Her work there earned her a very coveted spot on the U.S. Olympic Committee's Sports Medicine Team. Murry is honored to have worked with high caliber athletes on almost every team. She has massaged swimmers, wrestlers, gymnasts and fencers to name just a few.
Her trip to the 2016 Summer Olympics in Rio was a once-in-a-lifetime experience for her. "It was such a record-breaking Olympics for women," says Amy, reflecting on the record number of women who won medals. The female water polo team won gold and the US had the first ever women's Olympic rugby team. She spent many 16 hour days in the training room massaging athletes. The athletes enjoyed the supportive and laid-back atmosphere. Many came just to "hang out" and socialize or returned to share their hard won medals with the Sports Medicine team.
"You never know who will show up," says Murry. "They are all Olympians to us, the best of the best," she adds. "The media creates 'stars' but we are impressed by each and every athlete."
Were you fascinated by the "cupping" marks on the backs of the swimmers at the Rio Games? You can experience this technique at Human Body Works. As Amy explained, the circular marks on the back are simply caused by myofascial decompression. The cups are used as a tool to break up adhesions and improve circulation for quicker recovery.
Human Body Works uses only natural, chemical-free products in their practice. Products from Intelligent Nutrients based out of Minneapolis and locally manufactured Alaffia products line the shelves in the waiting room lobby.
Amy's commitment to the local community is evident in her outreach. Human Body Works supports the Capital City Marathon and the Bicycle Commuter Contest. They also donate to the Thurston County Food Bank, Level Road Runners and many other local non-profit organizations.
For more information or to schedule an appointment visit Human Body Works' website.
Human Body Works
4510 Intelco Loop SE, Unit A
Lacey, WA 98503
360-402-6776