Jennifer Penrose's love of physical therapy stems from a sports injury as a teenager. An avid tennis player, she was on her way to the state tournament when a back injury stopped her from even standing up without pain. Her physical therapy treatment enabled her to feel well enough to travel and play in the state tournament.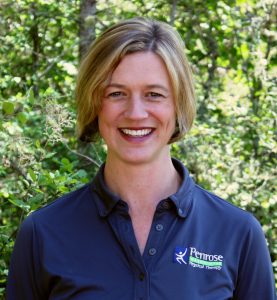 "I was pretty much hooked after that," she says. "From crawling around and hardly being able get dressed, to playing the next weekend was amazing, that was very much the moment I knew that this is what I wanted to do – to be that person for other people."
Penrose has been a physical therapist in the community since 2001, working closely with orthopaedic surgeons and physicians and speaking at and attending seminars on her work. In 2007 she opened her own clinic, Penrose & Associates Physical Therapy.
Now, she's found a way to make physical therapy available to a wider audience, including those who may not have good insurance coverage, or may not think of physical therapy as the right choice for their symptoms.
Starting Wednesday, October 4, Penrose will be offering low back pain classes to the public every Wednesday evening from 5:00 – 6:00 p.m., at an affordable price of $10 per class.
"We're trying to let people know that physical therapy is really the best approach to pain management," explains Penrose. "You'll be surprised at what you learn. If people understand what it is they need to do, they'll be more apt to follow through."
There's definitely an education component to the class – one of Penrose's goals is to give patients and guests to the class the tools they need to keep up at home.
"You have someone licensed and trained so you can learn how to use your core safely while your back is hurting. People think of core and they think, 'Oh I need to do sit ups and crunches.' That is the worst thing to do for a spine that hurts! If people come to the class and find that these techniques are actually working for them and they have good insurance, they may want to do physical therapy, or they may want to keep along in the class and have Chris advance them."
Chris Edwards, PTA, will lead the class, and Penrose says he is a great fit for beginners.
"I appreciate the way he handles patients with low back pain," she says. "He's really good with coming up with alternatives if something isn't working for the patient."
This is right in line with the Penrose & Associates Physical Therapy mission statement: "Listening to patients. Achieving lifelong results."
"What I hear from my patients is that the reason we're different from other physical therapy clinics is the amount of customized, one-on-one time we spend with our patients and what a team we are," says Penrose.
One patient testimonial reads, "The team is wonderful, knowledgeable, and understanding. I came with lower back issues and they made the recovery an enjoyable experience. I would recommend Penrose & Associates Physical Therapy to anyone. It is simply the best!"
Guests who attend the class should where clothes they are comfortable moving in. Mats are provided. For more information on the classes, click here. To reserve a spot, please call 360-456-1444. Email chris@penrosept.com with any questions.
Sponsored