Olympia twins Kirsandra and Katiana Welsheimer turn 16 on October 2.
It's a monumental birthday for anyone. But odds are their Sweet Sixteen party will only be the second biggest celebration this year for the twins.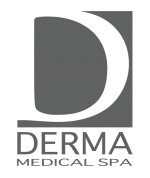 Kirsandra and Katiana became the first United States baton twirlers since 2002 to claim a silver medal in the junior pairs at the World Baton Twirlers Federation World Championships in Helsingborg, Sweden on August 14.
"It was amazing. It took a while for it all to sink in that we were silver medalists because Worlds is like the Olympics for our sport," said Kirsandra, who along with her sister studies at South Puget Sound Community College's running start program. "It was a great, overwhelming feeling. We knew that we were good competitors, but we didn't know if we could do the job or not. We did. We did the best job we ever could imagine."
Coached by their mom, Judy Welsheimer, who owns and operates the Fantasia Twirling Corps in Olympia, Kirsandra and Katiana started twirling when they were just over two-years-old.
"The first couple of years is just about learning to be in the class and listening to your teacher," Kirsandra said. "When we were eight we started developing more. We added gymnastics at 12 and then just started focusing on practicing with the goal of getting to the World Championships."
The dream was realized after Kirsandra and Katiana took first at the United States Twirling Association National Championships this year.
"Qualifying was terrifying," Kirsandra said. "They only take one team (to the World Championships). Everything was riding on that moment. It was a lot pressure, but we pulled through."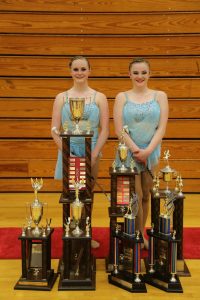 Before heading off to Sweden the sisters were forced to do yet another juggling act – fundraising.
"It's expensive to get there and unlike other countries these are self-funded athletes," Judy said. "So they did all kinds of fundraising."
According to Kirsandra and Katiana, they sold flower baskets, Krispy Crème donuts, and wreaths, among other items, in addition to conducting numerous car washes, all with the goal of saving enough for the trip.
"Just being able to compete at Worlds meant a lot," said Kirsandra, who trains five to six days a week. "Once you do your routine it's in the judge's hands so you can't control the outcome. But we left the stage knowing we did what we wanted to do and got blessed with silver. There were a lot of tears of joy. Everything we worked for finally paid off. All the fundraising and practicing worked and we don't regret a second of it."
The moment was also not lost on Judy, who immediately shifted from coach to mom when Kirsandra and Katiana took the podium.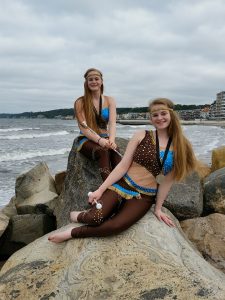 "I shed a lot of tears. I was very proud of my girls. I am also very patriotic so to have them represent our country was just amazing," Judy said. "The thing that stuck with me the most was when they got their medals the back of the auditorium had all the country's flags, and when their names were announced the United States' flag was all in lights."
Up next for the twins will likely be the 2017 Grand Prix and WBTF International Cup in Porec, Croatia next July.
The World Championships, which are held every two years, will be in Florida in 2018.
"The president of the USTA has already asked them to be at the next World Championships," Judy said. "I said, 'Can we enjoy this moment and get back to you?' It was so much work and so much pressure. It's so nerve wrecking and terrifying and scary to do this. I am just so proud of them."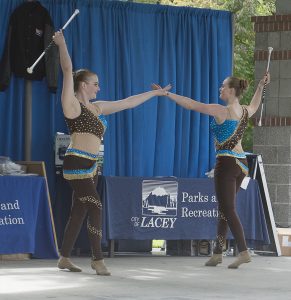 While they weigh their options on what the next competition will be, the most pressing item on their agenda has now become figuring out where to go to college.
"The focus now is getting into a college twirling position," Judy said. "They have what the colleges are looking for. They have the multiples. They have the national standings. They are definitely very marketable for a college positon. We're just now starting to look at different colleges."
Kirsandra and Katiana will be offering a one-day baton twirling clinic on September 30 at the Fantasia Studio. The clinic will be held from 6:00 – 9:00 p.m. followed by a performance on October 1. For more information, contact Fantasia Twirling Corps.