Submitted by Westport Winery Garden Resort
Westport Winery earned three gold medals in the 12th Annual Denver International Wine Competition. This is the largest double blind, professionally judged wine competition in the Rocky Mountain region. Only the gold medal winning wines will be served on Thursday November 3, 2016 at the Denver International Wine Festival.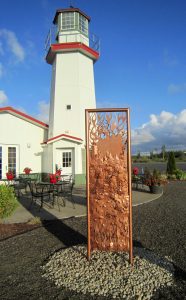 Shorebird Chardonnay made with grapes from Conner-Lee Vineyard near Othello in the Columbia Valley AVA earned one of these medals. The tasting notes describe this wine as "Sophisticated, starbursts, clean and crisp." A portion of the proceeds from the sale of this wine benefits the Grays Harbor Audubon Society. A sculpture by Aberdeen artist Mike Peterson, commemorating this wine is on display on the winery's patio. The label was painted by watercolorist Darrel Easter, a long-time friend and surf partner of winery co-founder, Blain Roberts.
Smoky Nor'wester, the winery's newest red blend, also earned a gold medal with 35% Cabernet Sauvignon, 31% Merlot, 26% Cabernet Franc and 8% Syrah. It is said to have "Maserati intensity, like a good spanking." The tasting notes suggest you enjoy it with a 'Shroom Steak while listening to Life's Been Good To Me So Far by Joe Walsh. This wine benefits the Museum of the North Beach in Moclips and is commemorated in a carving by Westport artist Nicole Demmert. The image for this label was taken from the archives of the Museum. 
Shiver Me Timbers, the winery's unique passionfruit, orange, guava (POG) Riesling also brought home the gold with its "waves of tropical bliss." A portion of the proceeds from this wine benefits Grays Harbor Habitat For Humanity. Its sculpture was also created by Mike Peterson. They suggest this wine be paired with their Benedictine Quiche during the weekly Sunday brunch at the winery's restaurant. The Technicolor image of Lahaina Harbor used on this label was created by Lahaina photographer and Roberts family friend Randy Miller. 
All of these wines are available for tasting at Westport Winery Garden Resort located on the corner of Highway 105 and South Arbor Road halfway between Aberdeen and Westport. The resort (including the restaurant, bakery, nursery and gardens) is open daily, offering lunch and dinner from 11 a.m. to 7 p.m. The wines are also available at their second location, Westport Winery TASTING @ Cannon Beach, at 255 N. Hemlock. This tasting room and gift shop is open daily from 11 a.m. to 6 p.m.
Westport Winery was named 2011 Washington Winery to Watch by Wine Press Northwest. They have been voted Best Winery by King 5 Evening Magazine for six of the past eight years. They were named the Best Washington Family Business Silver Medal winners in 2012, received the Grays Harbor Environmental Stewardship Award in 2015, and were name Best Winery, Best Wine Shop, and Best Boutique Winery for 2016 by South Sound Magazine.