On October 1, the South Puget Sound Community College's Center for Student Success will be transformed for the SPSCC Foundation's annual fundraising gala, The Experience. This night of community, collaboration and celebration is held with the sole purpose of highlighting and supporting the students and programs at the heart of the Foundation's mission.
The future is ever changing. If you think back to 15 years ago, no one would have guessed our flip phones would become essentially hand-held computers. Yet, here we are, updating our status, getting directions and searching answers for everything.
Today's students need to prepare for what the future holds for them – in technology, the job market and community needs. The Experience's theme is "A Night of Innovation and Excellence" and will highlight the college and Foundation's awareness that preparing students for a new future is job number one.
Anne Larsen, South Puget Sound Community College Foundation's Development Manager, shares how the evening will be centered around what the future holds for local students. "The evening's program is designed around answering the questions, 'What is the future for our students?' and 'How are we preparing them for that future?'" she explains. The Foundation's entire mission promotes student success. An essential part of that success is ensuring the Foundation supports students in a way that stays current with economic and business trends, preparing them not for today's job market, but for tomorrow's.
"Part of our job at the Foundation is to learn what the job market is going to be like when students graduate and adjust how we prepare them," explains Larsen. "Working together with community leaders, business leaders and manufacturers to examine trends in core areas of employment, we are able to better define where are the opportunities will be for our students and what the projected growth is in a given industry."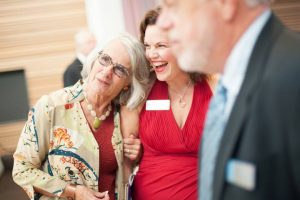 The Experience will highlight three local business partners in a short video who positively impact students through collaboration with The SPSCC Foundation. "These businesses do things like provide cutting-edge equipment for training students, advise on curriculum to keep it focused on current industry trends and sponsor internships or post-graduate jobs."
The first partner showcased will be Olympia Orthopaedic Associates who works closely with SPSCC's Medical Assisting programs. Second is the innovative, Lacey-based manufacturing company, DTI Inside. The accounts manager and general manager are SPSCC alums and work closely with the advanced manufacturing students and programs. Cops for Hire will be the third company profiled, a new business filling the growing need for reliable, skilled security while at the same time providing jobs for off-duty police officers.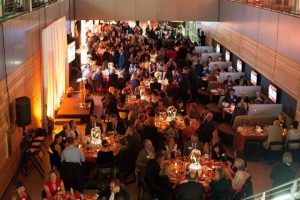 "We are trying to give students the opportunity to have a better future and our faculty doesn't always know all the details of where that future is. However, our business leaders do and they provide an invaluable insight and service to students throughout our programs," explains Larsen.
One business partnership will be on full display during the October 1 gala – Lucky Eagle Casino and the SPSCC Culinary Arts Program. The casino is supporting the Foundation's mission in two ways – donating all the food for the 450-person event and mentoring the college's culinary students who will work alongside Lucky Eagle's talented chefs to execute the evening's meal. And, following the theme, the students and chefs will be serving futuristic dishes such as a deconstructed crab bisque, plates featuring molecular gastronomy and surprises we can only imagine.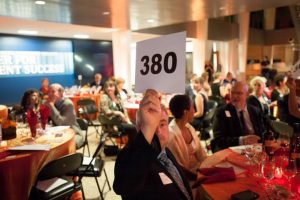 Coupled with the exciting menu are aerial acrobatics performances, demonstrations of a 3-D printer, a collaborative art project for guests to participate in and interactive desserts (you can't even imagine!). The party starts with a social hour highlighted by a student and faculty art exhibition and continues to dinner and the evening's program. The Experience culminates in the "after-party" with dancing to the tunes of The Edgewater Trio.
The Experience brings our community together with the common goal of supporting students who will ultimately become our colleague, co-workers, employees or bosses. The Foundation relies solely on the donations of individuals and businesses and The Experience is its biggest venue to share its mission and message. The support of presenting sponsors Heritage Bank, WSECU and the Thurston Economic Development Council, along with so many other local businesses and organizations, are sincerely appreciated and go far to advance The Foundation's goals, and ultimately student's lives.
Funds raised from the night directly benefit emergency grants, scholarships, and program funds. "We are removing financial barriers to education," shares Larsen. "Sometimes that means paying tuition, buying a student's books or paying a fee for a class. And sometimes that means buying a nursing student a stethoscope or offering emergency funds for rent and food to a veteran waiting for federal grant dollars to come through. No matter what form our support takes, it furthers the goal of a better future for the student and our community."
To learn more, visit The Experience online.
Sponsored