Advertisements are part of everyday life for modern Americans. They are designed to catch people's attention, highlight a company or product's qualities and most importantly encourage sales. Fifty years ago, in 1966, advertisements were also part of daily life. Newspapers were the primary form of media for advertisements during the era, though mailed advertisements as well as television commercials were growing increasingly common. Thus newspapers were an essential way to communicate to the public. In addition, pre-digital printing technology made commercially produced drawings, rather than photographs, the most common images used in advertising. Advertisements in Olympia's main newspaper, the Daily Olympian, show some of the important changes occurring in 1966 as well as giving a glimpse into the history and culture of the time.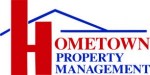 The year 1966 was an important one in the history of the United States. Lyndon B. Johnson was serving as President. Overseas the Vietnam War was building in intensity. In addition, the post-World War II American baby boom generation was growing up. Thurston County in turn faced a period of transition and growth. The expansion of state government responsibilities led to a corresponding increase in employment with state agencies. In response there was a corresponding growth in local population and in businesses catering to the increasing number of people. Olympia City Government in 1966 moved from the building on State Avenue and Capitol Way (presently the home of the Family Support Center) to a new structure on Plum Street (now the City's Lee Creighton Justice Center).
Businesses in Thurston County centered upon Olympia's downtown core. With the construction that year of South Sound Center in Lacey, the county's first modern shopping center, businesses began a slow migration out of downtown, although many shops remain in the area. Capital Mall would be constructed on Olympia's Westside in 1977.
South Sound Center proved to be very important in the history of Lacey. Formally a small rural community, Lacey underwent a transformation in the 1960s and 1970s inspired by South Sound Center and the construction of housing developments. Lacey formally incorporated as a city in 1966. Indeed, so important was South Sound Center that the new city's first mayor Al Holman's swearing-in ceremony took place inside the shopping center.
Even though chain-stores played an increasingly important role in the county economy of 1966, Thurston County still had a large number of locally owned businesses. Peterson's Foodtown in its sixth anniversary on November 16, 1966, offered sales on food, with its logo of "Pete" wearing his grocers' apron. Although that business does not survive, Ralph's Thriftway (opened in 1956) continues operations. A number of other local businesses from that time period remain in existence. Today, specialty grocery shops have found a successful niche in the economy.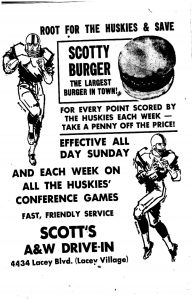 Restaurants and other types of businesses are also well represented in newspaper advertisements of 1966. Scott's A & W Drive-In, located at 4434 Lacey Boulevard in Lacey Village, is a good example. This restaurant advertised on November 13, 1966 as having "The Largest Burger in Town!" and promised "fast, friendly service." Reflecting continuing interest in regional football, they promised a cent off for every point scored by University of Washington's football team (Huskies) at their conference games. Other local burger establishments such as Eagan's Westside Drive-In and Eastside Big Tom's in Olympia are still in business.
Two major advertising devices were the use of mascots and symbols. They brought a creative note to the ads. Peterson's Foodtown "Pete" character and Thriftway's shop signs are good examples. On November 9, 1966, playing off the recent political election, Curtis Lumber advertised with a cartoon of a well dressed woman casting a ballot marked "billing" overlooked by a smiling tin robot that advertises "Vote for 'better living' this fall at Curtis Lumber." Curtis Lumber Company remains in operation today.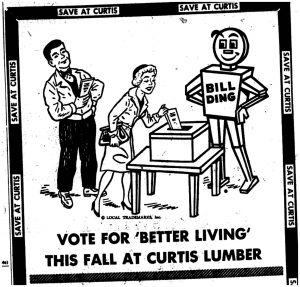 Looking back, these advertisements from 50 years ago can be seen as rather quaint. Prices seem low, but factoring in inflation since makes the prices more comparable to those of today. Thriftway in 1966 offered 13 pink grapefruits for $1.00 and Toyland's twenty-four inch doll was on sale was $2.99 with outfits that retailed separately at $1 each. These newspaper advertisements offer an interesting window into a time period that is growing increasingly distant, showing change as well as the continuation of trends in business and culture in Thurston County and America.