John McNamara is impressed with the power of cooperation. As a Cooperative Development Specialist for the Northwest Cooperative Development Center, (NWCDC), he helps northwest businesses learn about that power.
When I visited their downtown Olympia office, McNamara was meeting with NWCDC Executive Director Diane Gasaway, and Jessica Owens, General Manager of The Weaving Works, Inc., a Seattle company that is using NWCDC services.

Owens tells me how she got connected with the NWCDC. "The owner of our company, The Weaving Works Inc., was retiring. Along with other workers, we were interested in owning the business. I was looking online to see if I could find some information about how to transition from a single owner to a worker owned business and came across the NWCDC."
"It was a Friday afternoon, close to 5:00 p.m. when I found this information. As I dialed, I did not expect anyone to answer so late on a Friday. But the call was answered and that was the beginning of our relationship with NWCDC. I highly recommend them to anyone starting a cooperative, or needing assistance through a business transition," says Owens.
According to their website, the mission of the NWCDC is to "foster community economic development through the cooperative business model. The organization assists new and existing cooperative businesses in Oregon, Washington, and Idaho, from daycare centers to credit unions. They assist current and forming cooperative businesses with feasibility assessments, cooperative education, business planning, strategic planning, market research, board training and grant writing."
McNamara says working within a cooperative framework is about "something bigger." He tells me about his many years spent learning about and working in a worker-owned business.
"Prior to coming to Olympia, I worked 26 years for the Union Cab Co-op in Madison, Wisconsin. I started as a driver and worked my way up to General Manager. The last 15 years there I got involved with co-op development and how to make our company better," McNamara says. "We helped develop a number of different assessment tools, and formed training groups for cooperative business consulting. We were also involved in helping to form the US Federation of Worker Cooperatives."
McNamara earned his masters and doctorate degrees in Cooperative Business Management from Saint Mary's University in Halifax, Nova Scotia.
"I believe it is the only English speaking school in the world that offers a graduate level degree in Cooperative Business Management," he says.
"A few years ago, my daughter decided to attend The Evergreen State College. I visited the area and fell in love with Olympia. I knew the NWCDC was here. I spoke with Diane and she offered me a position. I wanted to help co-ops develop and build, not manage a cab company. My wife and I decided it was time for a change and we moved out here two years ago," he states.
"I am really an introvert so I love research but I also love meeting people and seeing when they get it and realize just how powerful cooperative organization is – that it is actually bigger than doing something on their own. The really fun part for me is seeing people catch that bug," McNamara says.
Two local businesses the NWCDC has assisted are Northwest Construction Cooperative (NWCC) and Olympia Food Co-op.
"We spent a couple years setting up the business," says Jeremy Van Orman-Ballantine, design coordinator and one of the owners of Northwest Construction Cooperative. "We made use of the free information available at the NWCDC to learn how to form a business plan, file with the Secretary of State to be incorporated, and write bylaws and articles of incorporation."
"We were coming up on the end of our first year of operation and financially struggling with a lot of expenses that we did not account for in the planning. Michael Snow one of our owners, found out that the NWCDC offered business loans funded through grant money," he says.
"The application process was pretty lengthy, but helped us so much. A strategic plan was required, which we worked on during a retreat. This planning helped spawn the ideas for our new management structure. It was an incredibly helpful process. Once everything was submitted, we received the loan. I definitely recommend the NWCDC," he says in summary.
Maureen Tobin, is the membership coordinator at the Olympia Food Co-op and a member of the Co-op's Organizational Health Committee.
"This committee," Tobin tells me, "made up of staff members like myself, and board members Desdra Dawning and Julianne Panagacos, has been working to implement an evaluation of our co-op on all of our complicated levels – the staff, board, members – taking a really big picture look at all of it.  It was a daunting task when we first got started last year and we were grateful when the staff at the NWCDC contacted us to offer their help.  John McNamara had heard about our interest in identifying areas to work on and create realistic goals, basically getting started on a new path of strategic planning."
"The NWCDC was able to use experiences at other co-ops to help us get started," she continues. "It's about taking a good look at what we are doing as an organization, especially as compared to the greater world of co-ops.  We all share the same basic core principles and it's important to take time to step back and think about our role locally and in the greater co-op movement."
"John and the NWCDC have helped us do just that, starting with a detailed evaluation tool called the Co-op Index. It's been a valuable process thus far for staff and committee members and we are still working together to determine next steps.  I think the Olympia Food Co-op is lucky to have a knowledgeable resource like this in our area," she concludes.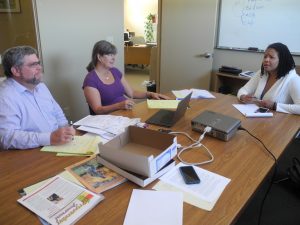 The Northwest Cooperative Development Center helps businesses with feasibility assessments. They worked with a bookstore that was considering converting to a worker-owned establishment. The store would need to double or triple their sales which was not feasible. Therefore, they decided to close instead.
The NWCDC also helps housing co-ops get started. McNamara explains, "Most of our housing co-ops start out as manufactured home parks where people own their home, but not the land. They pay rent for the land. When the landowner decides to sell, the NWCDC can come in and help the residents buy out the owner and become co-owners of the land. The people self-manage and eventually they have more control over their lives."
Additionally McNamara says, "I teach workshops here at the office, and I have developed a course on worker co-ops that I teach at Evergreen in the summer. We are trying to create a co-op academy. The idea is to take a core group who are ready to start a business and put them through a quick 10-week program to learn what they will need to start a business. So, when they come out of the academy they should be ready to incorporate, have a business plan, a marketing plan, and everything should be ready to go to start raising capital to start their business. It's kind of a business boot camp."
The Northwest Cooperative Development Center is ready to help any group on its way to business ownership and start-up. NWCDC is a not-for-profit 501(c)(3) organization. To learn more, visit the NWCDC website or call 360-943-4241.