There are many reasons to remodel your home. Perhaps you are expanding your family or would like to use your space in a more functional way. Remodeling a bathroom or putting an addition onto your home is a great way to improve your lifestyle and add equity to your home. While you may love the results, many of us dread the actual construction phase and the disruption to our lives. Chris and Jennie McDonald of Lifespan Construction are committed to helping clients through the design and build process and to making the journey a smooth one.
With over 20 years in construction experience, Chris McDonald is uniquely qualified to assist homeowners in all phases of remodeling and construction. Chris and Jennie opened Lifespan Construction in 2010. They have come a long way from a husband and wife team in a van to a full-service construction company with thirteen full-time employees. While Lifespan is not a new firm, they are new to downtown Olympia with the opening of their location on 4th Avenue East after six years in neighboring Tumwater. The new space includes a design office, shop and 1,000-square-foot showroom.
"The showroom is geared toward our process," explains McDonald stating that it's a great place to visit when considering a remodel. The walls are covered with cabinetry and tile samples. A kitchen area showcases the improvements that Lifespan can make to your own home.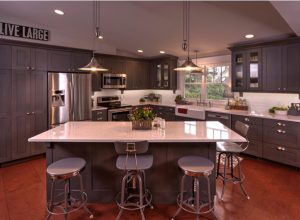 A visit to the showroom or a call to Lifespan will result in a home visit from owner/builder Chris McDonald. During this site visit, both Chris and the homeowner discuss the project and decide if they are a good fit for one another. If both parties agree, a meeting is scheduled for one week later at the showroom. At this point Lifespan will provide an architectural design and cost estimate. Clients are able to meet the staff and get a feel for the company culture.
It is important that both Chris and the client have a comfortable working relationship. "It is our goal, at Lifespan, that everyone who interacts with us and our staff have a good experience," says Chris. Chris and Jennie love the remodeling process and the relationships that are created. As Jennie explains, "We are in someone's home for an extended period of time." Often the lead carpenters are treated to meals and are missed by the homeowners when the project is finished. "We want to improve the lifestyle of not only our clients but also the lives of our employees."
Based on customer feedback, their strategy is working. "Chris was a delight to work with and he went far in building and honoring our trust," says Leslie Demich of Olympia. "We are thrilled with our new outdoor space," shares Kirstin Conklin. "Chris and Jenny made it a fun, smooth and collaborative process."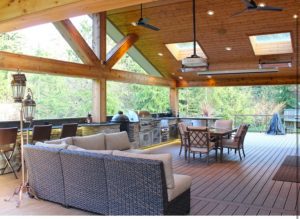 Jennie makes sure the office runs smoothly and employees and clients are working as a team. She sets the tone for the "drama-free" company climate.
Once the project is completed Jennie does the final site visit or as she calls it "the close-out." At this point, the homeowner receives a comprehensive questionnaire. Lifespan wants feedback on every phase of the project from the design process to the communication. Were the subcontractors on time? Did the carpenters clean up after themselves each day? No detail is too small for Jennie to make adjustments and improvements in the process.
Lifespan Construction is a full service company. Their clients range from design-savvy individuals with ideas and plans of their own to homeowners with no idea what they want to do with their kitchen or how to improve an outdoor space. Lifespan Construction will take care of everything from permitting to interior design to additions and whole house renovations.
Chris McDonald has been awarded "Remodeler of the Year" and NW Design Awards to name a few. He is also one of the founders of Rebuilding Together Thurston County.
Lifespan Construction will open its doors for an open house on October 28. The public is welcome to view the showroom and vendors will be there for questions. For more information visit the Lifespan Construction website.
Lifespan Construction
1941 4th Avenue East in Olympia
360-584-3833
Sponsored