Amira Dance Productions is at it again. They're shimmying and shaking to raise money for local non-profits. Since 2009, the organization has raised more than $10,000 for charity.
This time the benefactor is South Sound YMCA. Amira Dance Productions founder and dancer Joy Johnston has joined with the area's best dancers to create East Meets West in Arabesque: A Dance Journey. The event takes place Saturday, October 8, at 7:30 at the Kenneth J. Minnaert Center for the Arts. Proceeds will benefit the YMCA.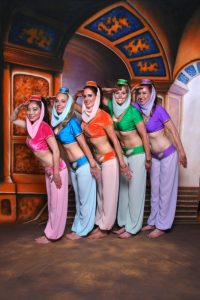 Featuring Portland's belly dance extraordinaire, Henna, and Olympia's own Ballet Northwest, the event explores the intersections of ballet and belly dance.
"To many audiences, ballet and belly dance seem like polar opposites," explains Johnston. "Ballet is ethereal, regimented and almost always performed on stage, where belly dance is earthy, sensual, and usually performed at parties and restaurants. However, the two dance forms have actually influenced each other over time, from the Middle Eastern-inspired works of American modern dance pioneer Ruth St. Denis, to the Russian ballet companies who heavily influenced the works of Egyptian choreographers in the mid 20th century."
Johnston's dance donation stems from a place of deep appreciation. As a breast cancer survivor, she found solace at the Briggs Community branch of the South Sound YMCA.
"Throughout treatment for breast cancer and after, the Y was a place where I always felt accepted and supported," she explains. "The Y was such an important part of my recovery that I decided to join the Briggs Advisory Board.  It was then that I learned about the incredible impact that the Y has in the lives of many people in our community. They provide childcare, mentorship, diabetes prevention programs and other vital services for the community. The South Sound YMCA organization serves over 50,000 people, and 1 in 8 of those needed the Y's help. Last year, the Y provided nearly $600,000 in support to over 3,700 families. I wanted to do what I could to help the Y continue its important role in our community."
The event falls in line with the South Sound YMCA's Supergala, with hopes to raise $100,000 to support the annual fund's ongoing programs and education.
"To do our important work, the Y relies on support from members, donors, community leaders and volunteers like Joy," says Jennifer Willms, Director of Development for South Sound YMCA. "Our volunteers work tirelessly during the annual campaign to help raise funds for the Y so when Joy, Briggs Board member and campaigner, approached us to independently host this fundraiser it was a welcomed surprise. She truly has gone above and beyond and we are grateful for her."
Ken Johnson, co-artistic director of Ballet Northwest, has worked with Amira Dance Productions in the past, and says the dancers and choreographers are thrilled to participate in this event.
"Ballet Northwest loves collaborating with other groups and artists so it will be fun to share the stage with these other talented dancers," he says. "Also, it will be great to come together to support the South Sound YMCA, an organization that does such great work in our community. This will be an amazing performance for a worthwhile cause, so we're excited to be a part of it. It will be inspiring for both the dancers and audiences."
Another bonus, says Johnston, is the cultural and historical significance of this dance on this day – October 8 is also the annual Olympia Arab Festival produced by the Rachel Corrie Foundation.
"We hope audiences will not only enjoy a night of beautiful dancing but also gain new insights into the relationship between the East and West that goes deeper than politics," shares Johnston.
"The South Sound YMCA is committed to strengthening community through diversity and inclusion," says Willms. "Joy is helping us fulfill our mission through this expressive, cross-cultural event."
Tickets for the October 8 show are available through olytix.org or by calling the box office at 360-753-8586.
Sponsored