Design Smart Home Staging and Redesign applies important design techniques to the thousands of homes they have staged that truly affect the way buyers feel about a home, ensuring they sell quickly and for greater profit for the seller.
Feng Shui
Feng Shui is a contemporary design approach that uses the placement of things and objects to positively affect the energy flow in a home.
"The amount of furniture and artwork and their scale greatly affect how a room is perceived by buyers, explains Lisa Poundstone, owner of Design Smart. "If pieces are too large or there are too many, the room can feel heavy, small and chaotic. Furniture that fits the size of the room with well-placed art can create a harmonious, peaceful feeling."
"Furniture placement really is the most important piece of a room's energy flow. In all rooms, you want to give enough space for buyers to walk through without feeling bottlenecked by furniture."
Greenery – Real vs. Fake
Greenery is a neutral décor item that brings the outside in and is used to soften furniture and corners in a room or highlight specific features, such as built-ins or a fireplace.
The question is, should you use real or fake plants?
"If the home is vacant and it is difficult to keep plants healthy and alive, fake plants are the only way to go," says Lisa. "The greenery that is made today looks real and doesn't have to cost a lot. If you are living in the home and can maintain real plants they will help clean the air and give good energy to the space."
Balance of Soft vs. Hard  
Hard surfaces include wood and tile floors and wood furniture. Soft surfaces are carpet, rugs, and upholstered furniture. Lisa explains the need for balance.
"You need to have a balance of hard and soft surfaces for rooms to feel comfortable and peaceful. If there are too many hard surfaces with nothing to soften them, the room will have an uncomfortable 'hard' feeling and won't appeal to buyers."
"For example, if the living room floors are made from a hard material, it's important to soften the space with an area rug and upholstered furniture. Wood furniture can be softened with throws, pillows and runners."
Odd vs. Even Numbers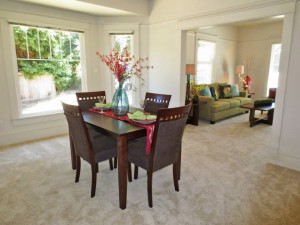 Lisa has observed that numbers of accessories or artwork subconsciously look better to people. Even numbers can work if done properly.
"When staging, try to place one, three or five accessories in a given location," Lisa describes. "A side table will look best with one large lamp or a lamp plus two extra accessories to create a trio. A two-piece set that differs in height works on a smaller surface. A four or six-piece set that is identical can be placed on a larger surface like a built-in shelf or mantle."
An odd number in artwork is effective also. Hang one large piece on a wall or a three, five or even seven-piece set of smaller art that, when hung closely together creates one large composition. 
Triangulate
"When using three pieces of décor on a table, the best look is three items that vary in height like a tall lamp, a shorter candle holder with candle and an even smaller plant," explains Lisa. "Place them in a triangular configuration, so that the tallest piece is at the back with the two shorter pieces sitting in front.
"Placing two larger items side-by-side and the smallest in front you create two different triangles—a three-dimensional triangle in height and a two-dimensional triangle on the tabletop."
Lisa Poundstone, PhD, is the owner of Design Smart Home Staging & Redesign, LLC.  She is an Accredited Staging Professional (ASP®) and was the 2013 and 2014 Winner of the Best of South Sound for Interior Design. Contact her at 360-480-5810 or visit her website.