Early on a beautiful July evening, I receive the notice I'd been anticipating for weeks – my client's cervix is now dilated to six centimeters. With my camera ready, Melissa and Joel Swan and I rendezvous at The Birth House. Throughout the night, Melissa and Joel bond during several strolls, stair walks and squats. The midwives time and again demonstrate their knowledge and empathy as they nurture Melissa and try to coax baby A.J. into place. Slowly night turns into day, but A.J. hasn't turned much at all.
Ultimately the midwives and Swans make the call to transfer to Providence St. Peter Hospital Family Birth Center. It is here where I first have the pleasure of observing Beth Joanis in action.
Beth has been a nurse since 2003, but giving birth to her own daughter a few years later helped seal her decision to become a registered nurse certified in obstetrics. She has been working in Labor and Delivery since the autumn of 2005, and at Providence Family Birth Center since mid-2007. With more than a decade of experience helping parents-to-be, it is no surprise how intuitively she works. She effortlessly brings a sense of calm to the room while helping the Swans transition to Providence, and discusses their birth plan.
Later, when we meet for our interview, I ask Beth if she has a favorite birth plan, to which she smiles and responds, "'I want to have a baby.' Now how those details work out, there are twists and turns. Nature is funny."
"I always try to incorporate the spirit of their birth plan and keep as much of it as possible," she emphasizes. "Birth is sacred and something to be honored. I respect it, and care for my patients' wants even if the story changes." Later on she draws a parallel, "In many ways, it's like the 'choose your own adventure books.' It's all about options and choices. We want to keep patients in the loop and give them realistic choices."
"As a nurse, my goal is to support parents in these amazing moments – to help them feel good about their birth story." I was able to witness this first hand as Beth cheered on my laboring client. Beth offered reassuring words as she coached Melissa through delivery, and beamed as Melissa found the strength to push again and again.
Curious to hear Beth's thoughts on difficult births, I ask how she views her role in such events. "When life comes, or goes, these moments need to be protected. It is important to keep calm, even when things are intense. I have to keep my cool. It might just be another day at work for me, but it's their birthday. They'll remember it for the rest of their lives. I work with an amazing group of people. Providence St. Peter's Hospital has a great team, many of whom have been here for decades. They give the best care they can, and things run pretty seamlessly."
Sharing some of her favorite parts of being a labor and delivery nurse, thoughtfully Beth mentions, "Every person and labor is unique. They teach and inspire me." Referring back to the Swan's birth story, she was impressed by the "beauty of a woman's strength and the importance of having patience."
Beth is passionate about caring for women in labor and enjoys the challenge. "I have at least two patients, one of whom I can't see!" She adores watching partners care for one another. One of her favorite interactions is seeing dads love and support moms, essentially fulfilling the role of a doula.
Beth lets out a laugh when I inquire why she became a nurse instead of a midwife or doctor. To my surprise she responds, "I had initially wanted to become an artist." She owns a wheel and kiln, and to this day still enjoys creating vessels. It was her parents who encouraged her to pursue the medical field. She strongly considered becoming a midwife, but the deciding factor for her was life balance.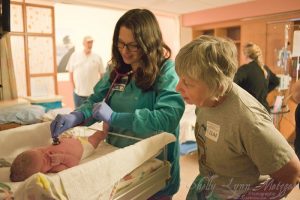 For Beth, being a nurse with two children gives her the option to "be 100 percent at work during a 12.5 hour shift, and then being 100 percent at home after clocking out. Doctors and midwives are on call –not all the time, but the finish line for their schedule is much further out. As a mom, being a nurse gives me just the right amount of balance – predictability in the unpredictable. I also like that being a nurse I get to help patients have the hippy birth they may want, like I had, with the added bonus of having an operating room down the hall."