In the late 1950s or early 1960s, Aztec Lanes was one of the only businesses out on Martin Way. Dirt roads and trails connected from Boulevard to Martin Way. It was a far cry from the bustling business area we know now, but Dan Ruden saw an opportunity and he made it happen. Now, more than 40 years later, Aztec Lanes is still in the family and better than ever.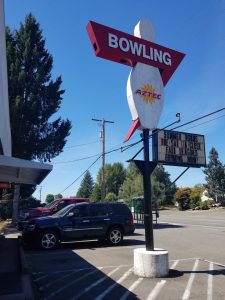 Current owner Dan Brathovd says he spent many hours growing up in his grandfather's bowling alley. "I used to come in during the leagues, when my mom was bowling and keep score for the ladies," he said. His score-keeping days evolved into working for his grandfather off and on during his teenage years. Dan says he enjoyed it so much he sometimes rode his bike all the way from his home in Tenino to get to work.
At one point, Dan's grandfather decided to lease the business, but his retirement was short lived and he returned to operating the business again only two years later. Then his grandfather came up with a proposition for Dan. "I was a senior in high school at that time and that's when he came to me and said 'are you interested in being part of the bowling center?'" Part of the terms of the deal included Dan going to college first before he could buy the business.
Following a degree in business and marketing, Dan worked side by side with his grandfather learning the ins and outs of the bowling industry. When his grandfather passed in 2008, Dan became the sole owner of Aztec Lanes. As he grandfather neared retirement, he slowed on his improvements to the business. However, Dan had different ideas. "I just really firmly believe you have to invest some money to make money."
First on his list was repairing the leaking roof. Next, Dan remodeled the outdated bathrooms. Over the next couple years, he painted, made other repairs, and updated the furniture. "Our main focus here is our bowlers," says Dan. "We want to keep our bowlers happy and coming back. My focus is trying to keep things updated and looking new in here."
Dan reports that his structural improvements have translated into higher revenue, with this summer being the best on record. Aztec Lanes is still a family affair. You can find April, Dan's wife, at the front counter and his two daughters working part-time as well. "The family enjoys it and wants to be around. I think it's fun for everybody." It doesn't hurt that Dan loves to bowl either. He says during the fall months he bowls six days a week in different leagues.
Dan tells me he really gets to know the regular bowlers. He disconnected the intercom system to encourage more face-to-face contact with his guests. Dan takes pride in excellent customer service. "That's the really fun part. People come in the door and you know what shoe size they wear so you have everything ready for them. And that just blows them away."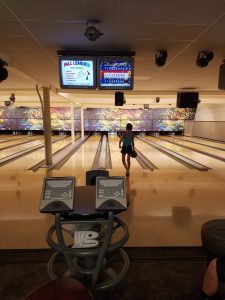 Dan says he strives to have many bowling options for his customers and is always trying to encourage the younger generation to join in the fun. For the fifth year in a row, Aztec Lanes participated in a program where kids bowl free during the summer. This year he had record turnout with more than 2,100 kids registering to get their two free games a day. "It's just neat to see the same faces over and over. They're having a good time and they're coming back." Dan estimates he gave away about $20,000 in free games this year, however, the summer program has brought his business out of the red during those months. He's found by giving back and investing in his business he really does get more in return.
Next on Dan's list will include new house balls and shoes for the coming fall season along with updates in the snack bar area. He says he also hopes to eventually start working on the exterior more and possibly pave the back parking area. For now, it's worth looking past the things that still need to be done and taking a step inside to see all that has changed at Aztec Lanes.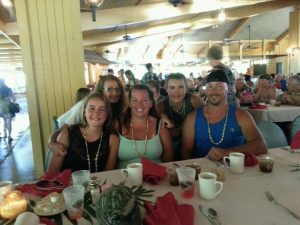 "You just kick back on the couch and have some fun bowling," says Dan in summary.
Aztec Lanes
2825 Martin Way East in Olympia
360-357-8808
Find hours for open play on their website.
Follow Aztec Lanes on Facebook page.
Sponsored