Since 2004, Dwayne Boggs has been guiding homeowners through his in-depth home inspections. Dwayne built Boggs Inspection Services from the ground up in Olympia and is now one of the fastest growing inspection companies in the area.
Dwayne grew up in Brunswick, Ohio, about 25 miles south of Cleveland. He was in the middle of four children with two older sisters and one younger brother. His family loved the outdoors and Dwayne grew up hunting, fishing and camping – hobbies he still loves today.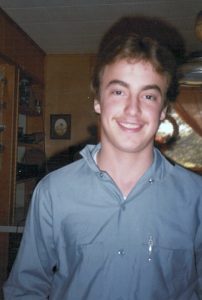 He worked odd jobs and construction through high school and began a career with the airlines in 1989 at age 23. Dwayne worked part-time, hauling and moving freight at the airport. It wasn't long before they noted his work ethic, promoting him in 1991 to a full-time lead foreman, responsible for a crew of more than 40 people. "It was as a lead foreman that I really developed my multi-tasking skills," he recalls. "Having to answer questions, knowing where people needed to be and making sure the work was completed required a lot of quick thinking."
In 1995, Dwayne decided to head back to school, knowing his employment prospects would improve with a college degree. He attended Strayer University and earned his BA in Business Administration while working full-time. He completed his studies in 2001.
In 2002, United Airlines transferred Dwayne to SeaTac and he moved to Olympia where his older sister Nancy LaPointe already resided.
Shortly after moving, Dwayne visited his brother in South Carolina and, by chance, picked up a magazine with an article about becoming a home inspector. He was unhappy at the airlines and as it was just after 9/11, the industry was unstable. "I read the article and got really interested," he recalls. "I thought, 'I can do this!' So I rolled up my sleeves and got to work and the rest is history."
While it wasn't quite as simple as just hanging up a sign, Dwayne's signature hard work and tenacity paid off. "It wasn't easy the first few years, but I just kept plugging away and it began to grow," he says.
Dwayne's work ethic, honesty and integrity helped him on the road to success and he credits his family's upbringing and time spent with his grandfather, Ford Spinks, for instilling these qualities at a young age.
"I used to visit my grandfather in the summers down in Alabama," he recalls fondly. "We'd fish and go out on the lake together. It was a great time in my life and truly where I got my work ethic. My grandfather was from the Depression era and he didn't really believe in being idle. There was always something to do." Dwayne recalls one summer when he spent three months helping his grandfather build his first house. "We'd work from 6:00 a.m. until noon, break for lunch, and then were back at it until 5:00 or 5:30 p.m., six days a week. Sunday was always for church," he remembers.
When they weren't working on the house, Dwayne would be handed a can of bent nails and a hammer with the goal of returning them to useable nails. "My grandfather worked us hard, but taught us that hard work pays you back. He was big on integrity – doing what you say and taking care of people and was one of my biggest role models."
Today, Dwayne's business has grown to include office staff and four additional inspectors performing home and commercial inspections throughout the South Puget Sound. As an employer, he now splits his time between the field and the business aspects of operating Boggs Inspection Services.
"I really enjoy the business part," he shares. "I love the houses and building science, but I get a lot of satisfaction from providing good jobs for my employees and being in a position to give back to the community, too. I'm not just a home inspector anymore, but a business owner." And, he's a great boss, treating his employees to Christmas parties or taking the guys to a group team building activity, treating Heather Rowell and his office staff to lunch or a special event to say thanks for all they do.
Boggs Inspection Services was built on Dwayne's hard work and integrity. He's known for his clear, thorough inspections and his straightforward, unbiased reports. "I always represent the client, the buyer," he says of his business philosophy. "I know from years of experience that it's not the home inspector that blows the deal, it's the house."
His honest, straightforward manner has not only earned him success in business, but a partner in life in Ana Ramirez. Eleven years ago, he swung into Costco on his way to a duck hunting seminar. "I was in camo shorts and a white tank top on a Friday night," he laughs. "I saw this woman all dressed to the nines with some of her girlfriends and I just went up to her and asked her out to dinner. She said yes, and that was that."
Ana and Dwayne have had many adventures together and despite both their busy schedules, have found time for relaxation and fun. They spent 16 days biking through Cuba in 2015 and this year, completed the STP together in celebration of Dwayne's 50th birthday. He still loves to hunt and dotes on his beloved hunting dogs. Ana joins him in a love of the outdoors and gets outside as much as she can.
Those who know Dwayne will tell you that you won't find a more dedicated, generous and humble guy. While he might not shout it from the rooftops, he's proud of what he's built at Boggs Inspection Services.
"I never thought, as a low-to-middle income kid growing up in Ohio, that I'd be able to give back to my community – sponsor dance teams, go to fundraising breakfasts, donate to the Boys & Girls Clubs of Thurston County – but I can. It's what means to most to me, at the end of the day."
To learn more about home inspections with Boggs Inspection Services visit them online or call 360-480-9602.
Sponsored