A new quick-service, late-night eatery now occupies 205 4th Avenue in downtown Olympia, the former home of Café Love.
Rush In Dumplings opened in late May and features Russian-style pelmeni. Similar to pierogies, the Russian dumplings are made with thin, unleavened dough and are filled with meats, veggies, or a combination.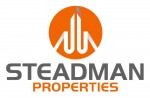 Rush In's menu currently consists of three choices of fillings: beef, curried beef, or potato. A patron can also order both meat and potato. After choosing the dumpling filling, it's time to choose preparation. The meal can be made with curry and broth, or dumplings on salad, for example. The boiled dumplings are then garnished with sour cream, green onions, or maybe a house made jalapeño cheese sauce, depending on customer preference. All meals are served with rye bread.
For dessert, the Rush In Cake is available, topped with whipped cream, caramel sauce, and walnuts. Or, a mini apple pie, a nice counterpart to the savory pelmenis.
On my first visit (yes, the food deemed worthy of multiple visits!) I chose the Loaded Dumpling, featuring flavored sour cream, bacon, grated cheese, and green onion. Potato was my choice of filling, and the dish was served with the company's motto in mind—"hot, fresh, and ready." I've got to say, each bite-size dumpling was like its own miniature loaded baked potato – delicious. And at $8, the dish was a great price point for the serving size. As the owners put it, their dumplings are somewhere between a snack and a meal.
Meet the Owners
Rick Bradley and Brad Eishold have worked together for more than a decade, banging out construction jobs, and even having a short run in the tiny house building movement. But the two yearned for something different with a little more longevity. So, they decided on the restaurant business.
With plenty of experience building bars and restaurants (they had a hand in the construction of Westside Tavern, for example), and Brad's skill in his home kitchen, they knew they could turn the vacant restaurant space into something of their dreams.
The interior of the space is smart. The new design allows for a bigger and better flow behind the counter, and little details, such as placement of dish racks, allows for efficiency. Amazingly, the pair was able to renovate and open the doors in just two months.
"We've had a great response from the community," reflects Brad on their first months of business, "we sell out nearly every day."
"I think people like that it's a different kind of meal," says Rick. "There's no certain time to eat these. They are a treat any time of the day."
The restaurateurs both appreciate becoming part of the downtown community, and look forward to building relationships with the Olympia Downtown Association, the walking patrol and ambassadors, and of course, neighboring businesses.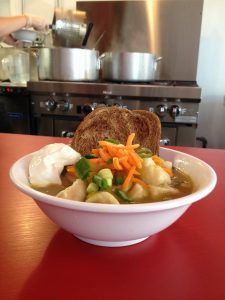 "I've lived in Olympia my whole life and never really got to know downtown," says Rick. "It's been really cool to get to know the community, and I appreciate it."
Next door, at Rumors Wine Bar, owner Stephanie Perry expresses gratitude for her new neighbors.
"We're excited they are here. Our customers can order, and they deliver pelmeni in these bowls that are perfect," she says.
"I've tried all the meals," she adds with a laugh, "and all of them are lovely."
And on a more serious note, she says that the owners and all the employees are great people, and a positive addition in the effort to make downtown Olympia a welcoming place for all.
What's Next?
Whether you enjoy Rush In Dumplings on a mellow afternoon, when the music is low and there's plenty of seating upstairs in the renovated loft or you make your way in on a late weekend night when the music is pumping and plenty of people pack the place, you can expect a few changes in the future.
If demand stays strong, Rick and Brad hope to hire more staff. They will consider adding more hours, and a few more house-made menu items and pelmeni fillings. The two also hope to fill the walls with cool art to complement the new style, and to make the window display a rotating treat for passersby. (It currently holds an old-school bicycle.)
But for now, the Siberian Classic Pelmeni (made with butter, cilantro, yellow curry, sriracha rice vinegar, and sour cream), or the house-made chicken soup, or any of the other popular choices will be available, "hot, fresh, and ready."
The restaurant is closed Mondays and open from 11:00 a.m. to 6:00 p.m. on Tuesdays. But Sunday, Wednesday and Thursday the shop is open until 10:00 p.m., and Friday and Saturday nights, the joint fills up until 2:30 a.m. (Check out our list of other late-night eateries.)