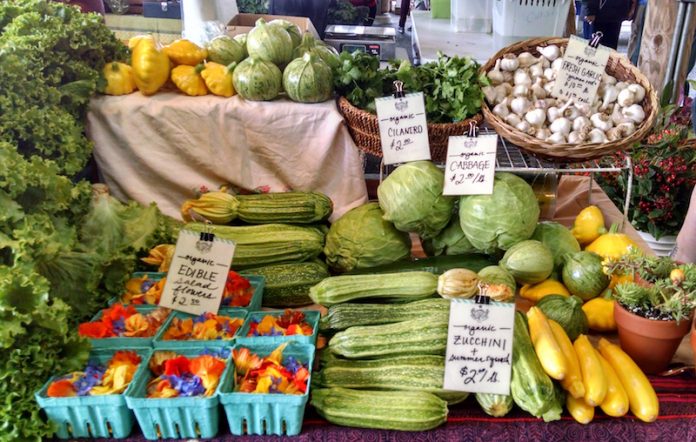 Every time I go to the Olympia Farmers Market, I appreciate the dynamic qualities that remind me to pay attention – he bouquet of summer produce evolves, he berries shift varieties and new vendors emerge. You probably have your favorite stops at the Olympia Farmers Market, but keep your eyes open for the newer smiling faces.
It's a luxury to buy directly from the farmers. They've spent many hours in the fields for our benefit.
Let's get acquainted with three newer arrivals to the Market – August Farm, Constellation Farm and Furrow Horse Farm – all dedicated to nourishing our bodies and taking care of the Earth.
August Farm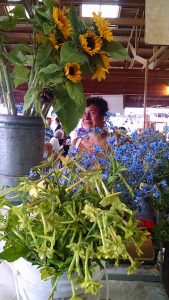 Liza Judge and Marianne Copene created August Farm, a harmony of pasture based animals and lovely flowers. It's their second year at the Olympia Farmers Market and you'll find them on Saturdays and Sundays. Their stall overflows with seasonal flower arrangements that will tempt you to sign up for their flower CSA, a weekly way to ensure you have fresh flowers on your table.
August Farm also raises chickens called freedom rangers on their pastures. Thoughtfully tended, these birds live on land without chemicals, pesticides or herbicides. This year they plan to raise 1,700 chickens, helping to meet the demand for pasture-raised chickens. They offer a chicken CSA to keep you fully stocked. Respect for life and animal welfare is a hallmark of their business. The farm also raises pigs and lambs. All their animals are fed local, organic feed in addition to foraging on the land.
Along with the flowers and chickens, August Farm sells Icelandic sheep skin rugs. "The strength of our business is our diversity," said Marianne. You can contact August Farm on their website or see current info on their Facebook page. Take in their beautiful photos.
Constellation Farm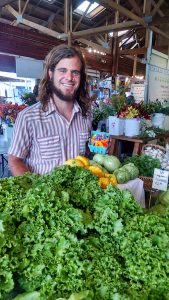 Husband and wife team Jonathan Breger and Lauren Schreiber operate Constellation Farm, an organic vegetable and flower farm south of Olympia. "I like the work," said Jonathan, who finds the whole process of providing delicious, organic food to be magical. Both challenging and rewarding, owning their own business provides a way to live their beliefs of sustainability and environmental stewardship. Jonathan studied agriculture, psychology and Buddhism at The Evergreen State College and then worked at Rising River Farm for over seven years. Lauren studied English and art. They integrate their eclectic backgrounds as they share their enthusiasm for amazing food and lovely flowers. The colorful nasturtiums and calendula are flowers you can eat. They're a nice touch to salads and, as Jonathan suggested, on your chocolate cake!
Constellation Farm utilizes a CSA with deliveries in both Olympia and Chehalis. They are at the Olympia Farmers Market on Saturdays and Sundays. Find Constellation Farm on Facebook, too.
Furrow Horse Farm
The thought of horses pulling a plow may make you reminisce about old-time farming, but Furrow Horse Farm utilizes the help of Abby and Lady, two Belgium mares, to pull their end of the workload. Owners and partners Brandon Wickes and Caitlin Arnold turn two acres of land into rows of luscious vegetables, which are available at the Olympia Farmers Market. Others are getting their shares via CSA, a weekly array of height-of-the-season vegetables.
Brandon graduated from the University of California Santa Barbara with a major in environmental studies. "As hard as farming is, I wanted to do that," he affirms. "There's a better way," he believed, than the typical industrial farming techniques. He apprenticed for a year on a Canadian farm with seven acres and seven horses. It was enough to inspire him to move into his own business. Caitlin supplements the farm income by working as a nutrition educator with SNAP, Supplemental Nutrition Assistance Program. If she's not working the Olympia Farmers Market, she's likely home canning apricots or whatever is in season.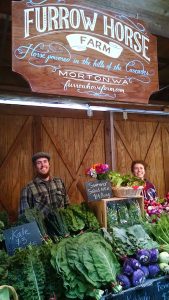 "It's great for us to be at the market," said Brandon, now into the second year. Word is spreading about their horse-powered vegetables. It's still possible to get in on their summer CSA. Furrow Horse Farm has a fall CSA option that happens right before Thanksgiving. It's a large portion of pumpkins, onions and other root vegetables that are meant for using through the winter.
Brandon also noted that CSA portions most often are filled above and beyond the amount paid. Sometimes people are hesitant to sign up for weekly produce citing expense. But Brandon noted that it's the most reluctant (at first) people who come to love the quality and variety of the produce and find their health improves. People are surprised at how good things taste and how good they feel. If you think a full-share is too much, the farm has an interesting option for a half-share, which gives you a full share every other week. Check out Furrow Horse Farm on Facebook or Instagram.
Visit the Olympia Farmers Market to see what's fun and new. Bring your reusable grocery bags and stroll around. You can pay with debit and credit cards as well as cash and checks. Vendors accept WIC, EBT and senior checks.
Meet the farmers who are dedicated to growing fabulous food. They might even have a recipe to share. Enjoy the daily entertainment and maybe even get your fortune read. For more information and event details about the market, you can sign up for the Olympia Farmers Market newsletter here.
Eat Well – Be Well
Sponsored