In cooking, it's all about the ingredients. Whether you're making a quick and easy dinner or low-and-slow crowd-pleaser, food takes time, talent, and an appreciative audience.
This summer's fifth annual South Sound BBQ Festival on Saturday, July 9, is a welcoming feast of friends, family, and food. The event is free and samples from some of our region's best chefs and pit masters start at only $2.
But don't expect to see just endless racks of ribs. With competitive categories in beef brisket, chicken thighs, pork baby back ribs, seafood, and 'other' grilled items, pros and Backyard Joes will wow your taste buds all day long.
Executive Director of the Lacey South Sound Chamber who sponsors this event Sierra Burton admits that facilitating such an undertaking can be exhausting. In previous years 15,000 attendees have enjoyed food, live music, family-friendly activities, raffles, and chicken-wing eating contests.
Burton continues, "This is my third year participating in the BBQ Festival and each year it is so much fun. I remember my very first year I got home around 10:00 p.m. that night and crawled into bed. The next day I was limping because I had walked so much that day, everyone who saw me thought I had been injured! Needless to say the staff running the show does a lot of walking that day and it is never at a slow speed! But it is all so worth it because we get to provide family friendly fun for this great community we live in."
The event is staffed by groups, businesses, and organizations from across the region. "This event wouldn't happen without all of the people who volunteer their time," explains Burton. "From organizations like the various Rotary Clubs, different banks, elected officials and churches; they all come and donate time to help run different parts of the event. Yes, this is a Chamber event but it wouldn't happen if it wasn't for our great community of people who volunteer."
Anyone can volunteer for this year's Festival either online, by emailing bland@laceysschamber.com, or calling the Chamber at 360-491-4141.
Special thanks are also in order, says Burton. "We wouldn't be where we are without Al Eckroth, Graeme Sackrison and Dan and Shelley Nicholson. Al is the founder and brains behind this event and the Nicholsons have been chairs for the past few years. Graeme is a co-chair this year as well. We are grateful to them for all the time and energy they have put into making this event as big as it is today."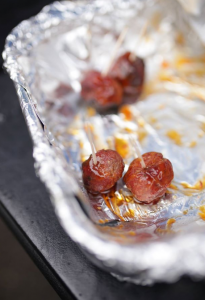 The South Sound BBQ Festival runs from 10:00 a.m. until 5:00 p.m. on July 9. The over 21 crowd can enjoy music and activities in the Coors Light Sports Garden from noon until 8:00 p.m. Take Intercity Transit to the Lacey Transit Center or enjoy Huntamer Park's many free parking options.
Follow the Festival on Facebook for the latest sponsorship, volunteer, event, and activity postings. Let photos from previous years whet your appetite for delicious food and neighborhood fun.
The Washington Post reports that "Like jazz before it, barbecue is viewed as an authentic expression of American life." We are definitely a nation—and a community—that thrives on improvisation and creativity in our music, food, and summertime fun.
Sponsored