Summertime is just ramping up. Our jar of "fun things to do together this summer" is brimming and so are our positive attitudes. But, this mama has a few summers under her belt and I know the creative crafts and active outings tend to wear thin before the jar is even half empty.
In comes the tried and true entertainer – the movies. A movie in a theater, for our family at least, does not count as "screen time" for which there are limits, boundaries, arguments and frustrations. It's an outing, an activity, a treat.
And, it's dark. And the kids don't talk. And, there is popcorn. Everyone wins.
Summer movies come in all forms. Morning matinees for moms and kids, free flicks under the stars for the whole family and nostalgic journeys to the drive-in are summertime staples. In Thurston County, movie options abound all summer long. Here are my favorites.
I'll see you at the movies!
Cheap Movie Theater Seats
It's 10:00 a.m. It's a Tuesday (or maybe a Wednesday). You're on your way to the movies, obviously. This year, Regal Martin Village Stadium 16 replays it's popular $1 morning movies, the Summer Movie Express. And this year, it's the only game in town. The Century Olympia theater will not be offering the cheap seats this summer. Every Tuesday and Wednesday from June 28 through August 24 the theater offers two morning movie options. For $1 a head, you can enjoy a G or PG rated movie and popcorn for breakfast. It's amazing. Options this summer include classic favorites like Curious George and The Lorax along with some newer options such as Transylvania 2 and Max (Best Friend. Hero. Marine.) With a portion of the proceeds going to the Will Rogers Institute, you'll be giving back, too.
Olympia Film Society's Kids Club Saturdays have been a popular addition to the downtown theater over the past months. The free-for-kids shows continue this summer on Saturdays at 11:00 a.m. and include Babe! and The Great Muppet Caper in the coming month. Shows are announced throughout the summer so keep an eye on the theater's calendar.
Don't miss the special presentation on July 2 as OFS teams up with the Olympia Fire Department and Captain Little for the Summer Fire Safety Movie Spectacular. The event includes firefighters, fire trucks (new and vintage), fire safety games and tips, free ice cream, and visits from Sparky the Fire Dog and Smokey the Bear. Fifth Avenue will be closed to host the block party highlighted in a showing of Planes: Fire and Rescue at 11:00 a.m. A non-perishable food donation or $1 gets you into the show.
Free Movies Under the Stars
Options abound for evening movies al fresco. Throughout the county there are movies suited for the littles and the bigs in your life. Take your pick and take your blankets, too.
The Classic Drive-In Experience 
This summer we WILL get to the drive-in. After years of reminiscing with my husband about visiting the drive-in "when we were kids" it's time for us to go. Will it be in the back of our giant, mostly used for trips to the dump pick-up truck? The kids have plans for putting a blow-up air mattress in the back. Or, will we play it safe in the mini-van? Either way, there will be pillows, blankets and snacks galore (purchased from the concession stand – no outside food or drink allowed). I see nachos with cheese served from a pump in our futures.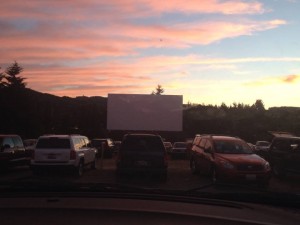 Skyline Drive-In offers lucky residents of Thurston and Mason counties the opportunity to relive the glory days with drive-in movies shown seven nights a week all summer long. Check show details on their page often as movies are rotated weekly and vary from family-friendly G rated options to rated R horror flicks.
Only the little tikes are free at this one – five and under get in for nothing. Kids six to 12 are $2 and 12 and up are $7. A lot thriftier than many other evening-out options for your family.
It's summer, people. Let bedtimes slide for a movie after dark. Substitute popcorn for cereal and see a movie in the morning. It's fun. I promise.
And the most fun? Your wallet will still be (mostly) full when you are done.