The coincidence of tragedy and fortune struck Paul Girard within one week. In 2004, Girard, best known as Paulie, was diagnosed with cancer. A melanoma had been discovered in his neck. Uncertain how he would pay for the medical expenses, he checked a lottery ticket that he had bought six weeks prior. Instantly, Paulie learned he had won the Washington's Lottery. The luck mixed with adversity led Paulie down a path that ultimately gave him the opportunity to open his dream business, Paulie G's Pool Hall and Deli.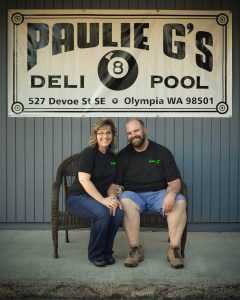 The inspiration for Paulie G's Pool Hall and Deli originated when Paulie was a student at North Thurston High School. He work intermittently at the former Olympia Billiards until it closed in the late 1990s. According to Paulie, there has not been a pool hall since, which sent him on his quest.
"After cancer and winning the lottery, I made several business investments while pursuing the idea of a local pool hall. The 2008-2009 market drop really hurt. And then, I found a building for lease in Olympia. The City of Olympia approved the pool hall and on February 2, 2012 after putting in lights and pool tables we opened Paulie G's."
Fast forward a couple of years, and after Elvis married Paulie and Trish on Christmas Eve in Las Vegas, the couple have created a thriving pool hall business that is family friendly and well known for its subs. For the last two years in a row Paulie G's Pool Hall and Deli has been recognized by KING5 Best of Western Washington as one of the top sandwich shops, ranking as high as sixteenth out of 170 nominees.
Trish and Paulie proudly proclaim that Paulie G's Pool House and Deli is the best kept secret in Olympia. While their subs are a hometown favorite, their location is a bit hidden, nestled between Martin Way and Pacific Avenue on Devoe Street.
"We are a family friendly pool hall," explains Paulie. "We have unlimited play memberships, tournaments, and leagues – all of which are great for any level of play from beginners to seasoned professionals. Our food is great, it is a kid friendly atmosphere and we have several large flat screen televisions."
Trish shares, "All ages are welcomed at Paulie G's as long as they follow the rules and be respectful. It is a behavior thing, not an age thing. We always say, tell your friends but only your cool friends. Our number one house rule is you must be respectful. This somewhat explains the second rule – pull up your pants because no one wants to see your underwear."
"We really do have a family friendly atmosphere. We do not serve alcohol. We are a nice alternative to the bar scene for a date night. We are a safe place and a place to go to get better. As our sign says, it is for good vibes only," Paulie remarks.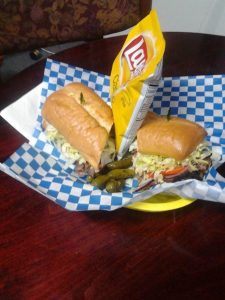 Starting in June, Paulie G's will be offering a reduced youth membership and hopes to start a youth league in the near future. As part of the BCA League, Monday nights are for A teams and Tuesday nights are for B Teams. During the summer, it is 9-ball league play while fall, winter and spring there are also 8-ball leagues.
Paulie G's hosts special occasions including birthday parties, office events, holiday bazaars and wedding receptions. As proud North Thurston High School graduates, they are frequently known to offer specials for high school students and alumni. It also has been said that Darth Vader and Obe Wan Kenobi once battled amongst the pool tables while 25 six-year-old girls charged Darth Vader with their light sabers.
Paulie and Trish are likely most proud of their CEO, six-year-old granddaughter. "She will meet people out in public and tell them all about Paulie G's. And she truly walks in the pool hall and commands the room."
"However, her favorite sandwich has not been ordered by anyone else and has not made the menu yet. I guess not many people like just bread and mayo. We would name it after Maddie, though. We like to honor family and namesakes like the Vitale Vinaigrette, after Trish's Italian family and Paulie's spices from his Cajun background," the couple share.
Paulie G's Pool Hall and Deli
Hours: Monday-Saturday 11:00 a.m. – 11:00 p.m.
527 Devoe Street SE in Olympia
360-338-0354
Sponsored